2015 CDIO Hagen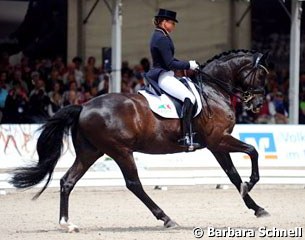 The 2015 CDIO Hagen in Germany on 8 - 12 July 2015 is boasting a star-studded line of Germany's best dressage horse and rider combinations. Almost the entire German A- and B-team will be competing at the Hagen CDIO and CDI-leg, which is the final German team observation and selection trial for the 2015 European Dressage Championships.
Remarkably absent from the line-up are Ulla Salzgeber and Herzruf's Erbe, who withdrew from competing in the Kur to Music finals at the 2015 German Dressage Championships last weekend.
However, finally scheduled to make a show appearance after one year absence from the show ring are Matthias Rath and Totilas. Isabell Werth and Bella Rose are also entered to compete.
The complete German line up for Hagen includes:
CDIO
Kristina Sprehe – Desprados FRH
Isabell Werth- Don Johnson FRH
Jessica von Bredow Werndl – Unee BB
Hubertus Schmidt – Imperio
CDI4*
Isabell Werth – Bella Rose
Matthias  Rath – Totilas
Anabel Balkenhol – Dablino FRH
Fabienne Lütkemeier – D'Agostino  FRH
Dorothee Schneider – St. Emilion
Sanneke Rothenberger – Deveraux OLD
Jenny Lang – Loverboy
Ingrid Klimke – Dresden Mann
Photo © Barbara Schnell
Related Links
2015 CDIO Hagen - Table of Contents
Enjoy VIP Treatment as a Guest at the 2015 CDIO Hagen Dressage Nations Cup
Eight Nations Cup Teams Entered for the 2015 CDIO in Hagen
Schmidt and Imperio on German Team for 2015 CDIO Hagen