2015 Bundeschampionate Qualifier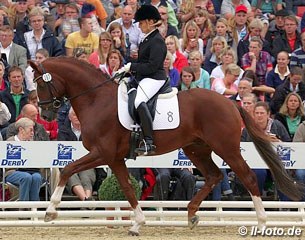 The 5-year olds Elysee and the 6-year old Danzarino OLD won the Bundeschampionate qualification classes held at the regional show in Nussloch on 25 May 2015. That same weekend a qualifier took place in Moosburg, Germany, on 23 and 25 May 2015, where the 5-year old Sandokan and the 6-year olds Dixel and Donna Regina claimed the trophies. 
At the Nussloch Bundeschampionate qualifier Franz Trischberger and Ludwig Fischer's Bavarian mare Elysee (by L'Espoir x Ehrentanz I) topped the leader board with an 8.2 total. The bay mare scored 8.5 for trot and canter, 8 for walk, 7.5 for submission and 8.5 for general impression. Silke Bechtel and the German sport horse stallion Qaitui (by Quaterback x Abanos) were second with 8.1. In the 6-year old division Katrin Burger aced the class aboard Lothar Merkt's Oldenburg stallion Danzarino (by Diamond Hit x Laurentio). They totalled 8.5 with 8.5 for walk, trot, canter, submission and general impression. Julia Machat and the Baden Wurttemberger bred Diddle Dee K (by Damon Hill x Carnando) were second with 7.8. 
At the Moosburg Bundeschampionate qualifier Rudolf Widmann rode Larissa-Cynthia Jacob's Hanoverian gelding Sandokan (by San Amour x His Highness) into the winner's circle with an 8.5 score. The black gelding got 8.5 for trot, 9.5 for walk, 8 for canter and submission and 8.5 for general impression. Widmann also captured second place on Rose of Bavaria (by Bordeaux x Florestan) with 8.4. In the 6-year old division Jan Disterer and Ramona Ritzel tied in first place with an 8.0 score. Disterer and his Hanoverian gelding Dixel got 8.5 for walk and trot, 8 for canter, 7 for submission and 8 for general impression. Ritzel received 8 for trot 8.5 for walk, 7.5 for canter and submission and 8.5 on general impression with her bay mare Donna Regina (by Don Frederico x Lauries Crusador xx).
Photo © LL-foto
Results - 2015 Bundeschampionate Qualifier - Nussloch
5-year olds
1. Elysee (by L'Espoir x Ehrentanz I) - Trischberger,Franz  - 8.20
2. Qaitui (by Quaterback x Abanos) - Bechtel,Silke  - 8.10
3. Diwero (by Damon Hill x Royal of Loh) - Schüren,Carlotta  -7.60
4. Ferdinand (by ?) - Pfeiffer,Kim  - 7.50 
4. De Valier (by Desperados x Weltmeyer) - Schneider,Dorothee  -  7.50
6. Fiorello W (by Fürst Nymphenburg I x Worldly) - Wittmann,Stefanie  -  7.30   
7. Simple Man (by Show Star x Rockwell) - Schmerglatt,Robert Harrisson  - 7.20
6-year olds
1. Danzarino OLD (by Diamond Hit x Laurentio) - Burger,Katrin  - 8.50  
2. Diddle Dee K (by Damon Hill x Carnando) - Machat,Julia  -  7.80
3. Rookie  (by Rotspon x Brentano II) - Kohlweiß,Birgit  -  7.60
4. Diva Royal K (by Dancier x Don Frederico) - Machat,Julia  - 7.50 
5. Don't stop me (by Don Diamond x Life is Life) - Casper,Nicole  - 7.40   
5. Donchetto (by Don Diamond x Argentinus) - Schmid,Christiane  -  7.40   
7. Secret (by Sir Donnerhall x Florestan) - Borrmann,Gisela  - 7.30   
7. Friedolin (by Fidertanz x De Niro) - Klenk,Sabine  - 7.30   
9. Herakles (by Gribaldi x Michelangelo) - Schneider,Dorothee  - 6.90   
Results - 2015 Bundeschampionate Qualifier - Moosburg
5-year olds
1. Sandokan (by San Amour x His Highness) - Widmann,Rudolf  - 8.50
2. Rose of Bavaria (by Bordeaux x Florestan) - Widmann,Rudolf  - 8.40
3. Ligety (by Lord Loxley x Alabaster) - Schwanz,Uwe  -  8.10  
4. Felice Noir (by Fürstenball x Rubin-Royal) - Winkels,Christoph  -  8.00
5. Lightfire just do it (by Lugato x Fürst Piccolo) - Wagner,Ursula  - 7.70   
6. Darco von Nymphenburg (by Danone I x Weltruhm) - Bewerungen,Eike  -  7.50   
6. Bequia-Simba (by Bequia x Sandro) - Kronaus,Kerstin  - 7.50   
8. Lustiger Peter (by L'Espoir x Del Piero) - Meller,Julia  - 7.40   
8. Bossanova (by Boston x Sterntänzer) - Schulz-Wallner,Friederike  - 7.40   
10. Benvenuto (by Boston x Pik Bube I) - Karl, Julia - 7.10   
10. schwarzer Mond (by Sarkozy x Caprimond) - Reichert,Yara  -  7.10   
12. Edelstain (by Edward x Fürst Heinrich) - Häufele,Katharina  - 7.00   

6-year olds
1. Dixel (by Don Frederico x Lauries Crusador xx) - Disterer,Jan  -  8.00
1. Donna Regina (by Denario x Regazzoni) - Ritzel,Ramona  -  8.00 
3. Dubrovnik NRW (by Diamond Hit x Regazzoni) - Himsl,Wolfgang  - 7.80
4. Fürstenadel (by Fürst Scheurenhof x Weltadel I) - Fisch,Ferdinand  -  7.60
4. Superman M (by Sir Nymphenburg I x Rivero I) - Muhr,Kathleen  - 7.60
6. Superdry (by Sunny de Hus x La Rochelle G) - Ritzel,Ramona  - 7.50   
7. Cathy  (by Captain Fire x Polytraum) - Fisch,Ferdinand  - 7.40   
7. Draxxton (by Denario x Likoto xx) - Krauspe,Andrea  -  7.40   
9. De Luxe (by Don Frederico x Feinbrand) - Kronaus,Kerstin  - 7.30   
10. Basic future H.S. (by De Niro x Roncalli xx) - Eiband,Alexandra  - 7.20   
11. Weluna (by Johnson x Donatelli I) - Rohrmair,Theresa  - 7.00   
12. Secret Story (by Starnberg x Markus Deak xx) - Kirschner,Felicitas  - 6.90   
13. Donnamoura (by San Amour x Florestan) - Pollich,Katrin  - 6.80   
14. Nofretete H.S. (by Carabas x Alcatraz) - Eiband,Alexandra  - 6.70
Related Link
Eurodressage Coverage of the 2015 Bundeschampionate