KWPN Breeding News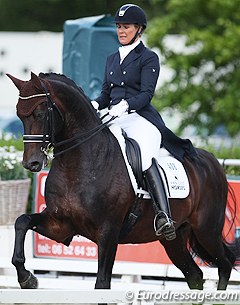 The KWPN licensed stallion and small tour dressage horse Chippendale is currently being held in legal custody as a lawsuit is taking place between co-owners Gert-Jan van Olst and Bahraini Maryam Al Khalifa.
In 2014 Al Khalifa paid 1.5 million euro for a 50% ownership share of the 8-year old Lord Leatherdale x Negro x Landadel stallion, which was first competed as a youngster by Spanish Severo Jurado Lopez and as an FEI level horse by Danish Grand Prix rider Anne van Olst. The agreement was that Anne would train the horse with the 2016 Olympic Games in Rio as goal and afterwards he would go to Al Khalifa as a schoolmaster.
Al Khalifa's motivation to go to court is multipronged. Anne van Olst's lack of motivation to train Chippendale is cited in court as one reason.  The stallion has been competed twice in a CDI Prix St Georges test in 2014. Initially the parties agreed to put Chippendale on the market in January 2016, but as there are also more complex issues going on relating to financial agreements, loans, and shares in several horses, Al Khalifa prefers to have the matter settled in court.
At the short procedure in the Breda court on 29 April 2015 the judge decided that Chippendale will remain in custody until a final court decision next week. 
Anne van Olst had planned on competing Chippendale at the 2015 CDI Roosendaal on 7 - 10 May 2015, but as the stallion will remain in custody he cannot show. Al Khalifa's lawyer Stephan Wensing mentioned that it was impossible for Chippendale to compete as he is currently medicated for injuries.
Source: Horses.nl
Related Links
Chippendale, Bon Bravour, and Apache Win 2011-2012 KWPN Stallion Competition
Giovanni and Toto Jr, Winners of the 2014 KWPN Spring Stallion Performance Testing
Halegro van het Trichelhof, Price Highlight of 2015 Van Olst Sales
Severo Jurado Lopez Not to Return to The Netherlands, Stays in Denmark
Gigolo K Wins 2014 VWF Dressage Cup for 3-year olds