2015 CDI San Juan Capistrano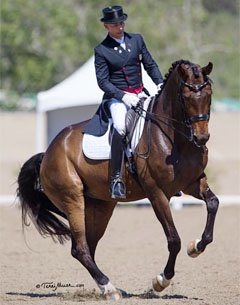 Even though Steffen Peters' young star Rosamunde performed a Grand Prix Freestyle for the first time in her life on Saturday 28 March 2015, she looked like a seasoned veteran on her way to earning the unanimous win under all five FEI judges with an impressive final score of 77.750% at the 2015 San Juan Capistrano.
Utilizing stablemate Legolas's recognizable David Bowie/Coldplay/U-2 music and demanding choreography, the Rhinelander mare affectionately known as "Rosie" (by Rock Forever x Fidermark) proved she was up to the challenge, including successful execution of double pirouettes, piaffe fans, and tricky transitions - all at just eight years old. In her inaugural freestyle effort, her score was just three points less than Legolas' performance the previous week at the CDI-W, which earned Peters a ticket to the 2015 World Cup Dressage Finals in Las Vegas as the top-ranked competitor in the North American League. Finishing in second with 71.450% was Jan Ebeling aboard another up-and-coming star in  Rassolini (by Rubioso N x Silvano).
Peters noted that his intention in using the freestyle was not to make the performance a game of "who rode it best" between his two talented mounts.  "I chose to use Legolas' freestyle because I wanted to have another practice run before the World Cup in a competition setting - you can practice it at home but it's just not the same," explained Peters. "It's still a bit difficult for Rosie, but she embraced it and was so beautifully with me the entire time. She wasn't tired at all from these last two weeks of competing - she was as happy as ever, and I actually had to hold her back in the extensions a bit and say, 'not yet'. We had a little mistake in the one-tempis, but the two-tempis were improved even from Thursday's Grand Prix and her pirouettes were amazing, reminding me again of Ravel. [FEI judge] Gary Rockwell said to me after the class that he wasn't sure he'd ever seen a horse do half-passes as easily as Rosie, and that's exactly how she feels. You simply point her in the direction you need to go, and she just offers it. It's a wonderful feeling. Like I've said before, gravity is just a suggestion to her." 
Peters noted that next on the calendar for Rosie is to join stablemate Legolas in Las Vegas, where her growing number of fans can look forward to a seeing her participate in a special dressage performance during the World Cup Finals. 
Roenick Returns to the Ring With a Victory in Intermediaire I Freestyle

Until earlier this season, Tracy Roenick hadn't cantered down centerline in a dressage competition since 2005. But on Saturday she showed no sign of being out of practice as she and her elegant black Oldenburg mare Apassionata (by Sir Donnerhall x Friedensfuerst) decisively claimed the Intermediaire I Freestyle victory with 72.625% over second-placed Susan Martin and Veto (by Montecristo x Rubinstein) on 70.100%.
Apassionata recorded several CDI small tour wins in 2014 with Steffen Peters, but after a decade of staying out of the saddle to support her family and her daughter's riding career, it was finally time for Roenick to take her turn.
"When we first got 'Pia' she was feisty, and I didn't even know if I'd get along with her. Steffen encouraged me to try, but when you've been out of the ring for so many years and then jump right back into a CDI with five judges looking at you as you enter the arena, it's hard and you can't help but wonder, 'what am I doing here,'" Roenick admitted, adding that show nerves had been an additional obstacle for her overcome in successfully returning to competition. "The first two shows were a nervous struggle for me, and she's a sensitive horse so she feeds off of what I'm feeling. Finally I felt like I settled down last weekend, and today I didn't have a whiff of nerves - I could think about what I was doing without being overwhelmed, and Pia was super too. What a thrill not only to win, but also to get a great score from this judging panel. Today was really fun - who knew?!" she laughed.  
Chamberlain Sweeps Young Rider Division, Vaughn Wins 16-15 Grand Prix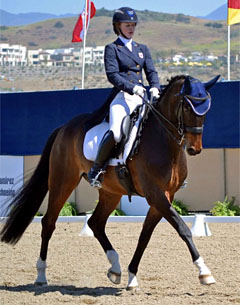 Last year's NAYRC Team, Individual, and Freestyle Gold Medalist Catherine Chamberlain completed a sweep of the Young Rider division with a win in the Freestyle with a score of 69.775%. With her new partner Avesto Van Weltevreden (by Gribaldi x Krack C), Chamberlain is undefeated in her division this year and looks poised for a possible return to the NAJYRC in Kentucky for a fifth time.
"Just a year ago I showed him here in San Juan Capistrano at Third Level, and he's come such a long way in a short time. He's always the same horse in the ring as he is in the warm-up, and that consistency is one of the things that I think makes him a solid competitor," said Chamberlain. "This was his first freestyle ever, but he was great and the music didn't seem to faze him at all - it got him just the right amount of 'pumped up'. I made a brand new freestyle last year for my other horse Verdicci to specifically use at the NAJYRC and only used it once, so I decided to try it with Avesto and it worked really well for him. We tweaked the choreography a bit because he's still a little green at this level, but he handled it wonderfully. I'm so grateful to his owner for this opportunity to ride him, and I'm excited to see how he keeps developing. He's a very cool horse."
Another repeat winner wrapped up the CDI competition as the lovely pair of Genay Vaughn and her impressive black Hanoverian stallion Donarweiss GGF (by De Niro x Hohenstein) claimed their second straight victory in the Under 25 division in topping the 16-25 Grand Prix Test with 66.705%.
Photos © Terri Miller - Jennifer Keeler
Related Links
Scores 2015 CDI San Juan Capistrano
David Blake and Ikaros Celebrate Grand Prix Special Win at 2015 CDI San Juan Capistrano
Peters and Rosamunde Impress in Grand Prix at 2015 CDI San Juan Capistrano