2015 CDI-W Palm Beach Dressage Derby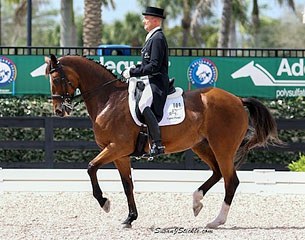 Lars Petersen, Tinne Vilehlmson and Laura Graves won the big tour classes at the 2015 CDI-W Palm Beach Dressage Derby held in Wellington, Florida, on 6 - 8 March 2015. The first March weekend of 2015 had hot weather in store in Wellington, affecting the performances of several horses throughout the show.
Petersen Wins the Grand Prix
Lars Petersen (DEN) and Marcia Pepper's Mariett topped the Grand Prix with 72.960% on the first day of competition. The humid weather played a major role in the outcome of performances, as the temperature was well near 30 ° C by early morning. Petersen won the class, followed by Laura Graves (USA) and Verdades in second with a 72.200%, and Shelly Francis (USA) and Doktor rounding out the top three receiving a 72.120%.
 
Petersen and Mariett have had a stellar season so far as they aim toward the 2015 World Cup Finals in Las Vegas this April. They continue to show their consistency as each competition week passes, clearly in their best form to date. "She did everything I asked, which was good. She was definitely more tired today than in the past which made this test different from our previous rides," Petersen noted.
The hot weather did impact the duo, as they were in the last five rides in the class, right in the heat of the afternoon, as was Laura Graves and Verdades. "Today it was very hot. I was happy with her because I warmed up for a little bit too long considering the heat, and I had to work for it a little bit today," said Petersen. Graves agreed with Petersen and commented that the humid afternoon impacted Verdades test as well. "We definitely felt very similar to what Lars was saying. We felt super tired, and it was not ideal conditions. We're very used to going early in the morning when it's a bit cooler," she said.
Graves and Verdades tested the competition waters for the first time this 2015 season after their impressive performance at the 2014 World Equestrian Games (WEG) in Caen, France, this past August with Team USA. The duo now aims for World Cup Finals in Las Vegas.
"He tried really hard for me today and we had a few rider errors, which is on me getting back into the swing of competing again, riding the whole test and finding the rhythm," she remarked. "We're going to do the World Cup qualifier next week and then we will see. There's been some discussion about maybe coming out for Nation's Cup, but that's yet to be determined. Making it to World Cup Finals is a priority. We would love to go to Vegas and hopefully we'll get there with scores tomorrow night in the Freestyle and next week."
Vilhelmson On Top in the Grand Prix Special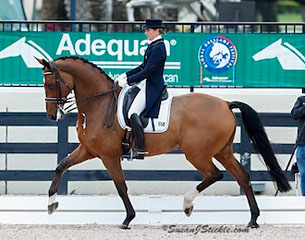 Tinne Vilhelmson-Silfven (SWE) and Divertimento made easy work of the Grand Prix Special taking the win with 72.333%. Mikala Gundersen (DEN) took second place aboard My Lady receiving a 70.196% and Shelly Francis (USA) put in another solid performance with a 69.529% aboard Danilo.
The weather was uncooperative for much of the afternoon, as several pairs were caught in a steady downpour during their tests in the Grand Prix Special. Vilhelmson-Silfven who has been extremely consistent with Divertimento this season, is proud of the progress the pair has made  this season. "I think he has most certainly gotten better and better to ride each time. I was particularly happy with the Grand Prix on Thursday. It was the best feeling I have had," she remarked.
"Tim" who is generally very hot in the ring for Vilhelmson-Silfven, has continued to gain confidence, which has made it easier to ride each movement. "I'm really happy that even though he was a little bit on the edge today he let me ride everything without mistakes. But that's just him, it wasn't the weather, maybe a bit the atmosphere, but it's getting better," she noted. 
Graves Recovers to Win World Cup Qualifier Kur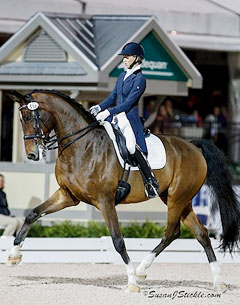 Laura Graves (USA) and Verdades won the World Cup qualifier kur to music with 78.875% on Friday 6 March 2015, followed by Lisa Wilcox (USA) and Pikko del Cerro HU in second with a 76.325%, and Shelly Francis (USA) and Doktor in third receiving a 75.950%.
Laura Graves and Verdades were in their first competition back after the 2014 World Equestrian Games (WEG). Graves, who stated that the Grand Prix was a difficult test for the two, said she felt much more comfortable with her ride in the Freestyle. "He was a little nervous going in, but every time we get into that box he does not ever fail to impress me and nine times out of ten will behave himself," she said. "I'm glad to be here and it's been a really long time, if ever, that I've led a victory lap and I'm honored to have had two American women behind me."
Wilcox and Pikko del Cerro HU have been tested in the past year with their partnership and tonight was a breakthrough moment for the duo. "I am thrilled. For us, he was so fantastic before the year he had off and you never know what you're going to have bringing them back, but I feel like he is better and stronger than ever," she explained. "We're gaining strength from show to show and we can be a little inconsistent still, but overall I am just so happy with where he is going and what he's becoming."
Photos © Sue Stickle
Related Links
Scores 2015 CDI-W Palm Beach Dressage Derby
Laura Graves Aiming for 2015 Las Vegas World Cup Finals
Tinne Vilhelmson Coasts to 2014 Palm Beach Derby Grand Prix Victory