2014-2015 KWPN Stallion Competition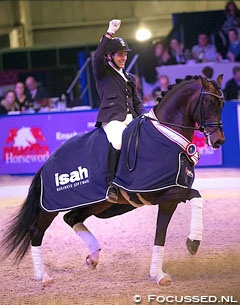 The 5-year old Franklin, the 6-year old El Capone and the 7-year old Desperado were the winners of the 2014-2015 KWPN Stallion Competition circuit of which the finals were held at the 2015 KWPN Stallion Licensing in 's Hertogenbosch, The Netherlands, on Friday 6 February 2015.
Eight stallions born in 2010 contested the L-level division and all were affected by the electric atmosphere of the indoor arena in Den Bosch. The two stallions which were at the top throughout the competition only increased their lead in the final. The day winner and overall champion is the dark bay Franklin (by Ampere x Ferro), who was the KWPN Stallion Licensing Champion in 2013. Under Severo Jurado Lopez, he showed an excellent trot with plenty of push, technique, and activity. The jury rewarded him with a 9.5 for the gait. For the walk, he received an 8 while the canter, rideability and general impression earned him 8.5's. A total score of 86 points and a final score of 341 points made him the champion. Kirsten Brouwer and Ferdeaux (by Bordeaux x Ferro) showed a good, functional walk again in the final, which was characterized by good balance and self carriage. Although he demonstrated good technique in the canter, the judges wanted to see slightly more forward momentum in the lengthenings. The stallion received an 8 for the walk and 8.5's for the trot, canter, carriage and elasticity, and overall impression. With a total of 84 points and a final score of 330.5 points he became the reserve champion.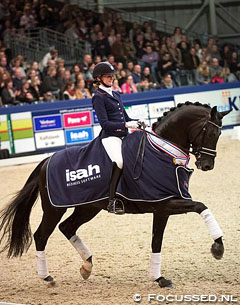 Only six stallions contested the M-level finals in which El Capone claimed the overall title. The day victory, however, went to Verden medalist Eye Catcher. Under Marieke van der Putten the black El Capone (by UB 40 x OO Seven) El Capone had such a strong lead going into the final that his competitors had no chance of besting him. However, Kirsten Brouwer and Eye Catcher (by Vivaldi x Partout) scored the highest in Den Bosch. Van der Putten and El Capone struggled with much tension and the horse was tight in all gaits. His final score of 83 points led him to a total of 351.5 points for the overall championship title. Eye Catcher earned the highest scores of the day. For his walk and trot, the chestnut stallion received a 9.5 and with a total score of 89 points, the combination convincingly finished as overall runners-up.
The Z-level finals was open to stallions aged 7 and 8 who had to perform to the level according to their age. Emmelie Scholtens and Desperado (by Vivaldi x Havidoff) impressed the judges the most.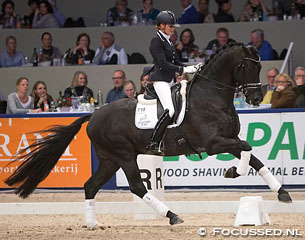 "A beautifully ridden test, with a pure and relaxed extended walk as one of the strongest points, we scored it a 9," said judge Van der Hoorn. "Desperado has a very consistent trot with a beautiful forehand, excellent technique, and a very good way of collecting. A 9." With an 8.5 for the canter, a 9 for carriage and elasticity, as well as a 9 for overall impression, the black stallion won the finals and the overall championship title. Hans Peter Minderhoud became the reserve champion on Dark President (by Wynton x G.Ramiro Z), a stallion first started on the circuit by Marieke van der Putten. For his active walk with good shoulder freedom, the stallion scored an 8.5. Van der Hoorn: "The stallion has a very good and expressive trot with excellent quality. Simply outstanding. A 9.5!" In his convincing canter, he showed good balance and correct movement, good for an 8.5. His other scores included a 9 for carriage and elasticity and an 8.5 for overall impression.

Photos © Focussed.nl
Results - 2015 KWPN Stallion Competition - FINALS
L-level
1. Severo Jurado Lopez - Franklin - 255 - 86 --- 341
2. Kirsten Brouwer - Ferdeaux - 246.5 - 84 --- 330.5
3. Mirelle van Kemenade - Ferdinand - 242.5 - 77 --- 319.5
4. Dinja van Liere - For Gribaldi - 239 - 80 --- 319
5. Vai Bruntink - Foreign Affair - 239 - 79 --- 318
6. Kirsten Brouwer - Five Star - 232 - 82 --- 314
7. Joyce Lenaerts - Firestone - 233 - 77 --- 310
8. Leida Collins - Fellini - 223.5 - 76 --- 299.5
M-level
1. Marieke van der Putten - El Capone - 268.5 - 83 --- 351.5
2. Kirsten Brouwer - Eye Catcher - 254 - 89 --- 343
3. Diederik van Silfhout - Expression - 252.5 - 85 - 337.5
4. Emmelie Scholtens - Estoril - 249 - 83 --- 332
5. Vai Bruntink - Ebony - 245.5 - 79 --- 324.5
6. Benjamin Maljaars - Everdale -  241 - 81 --- 322
Z-level
1. Emmelie Scholtens - Desperado - 258 - 89 --- 347
2. Hans Peter Minderhoud - Dark President - 253.5 - 88 --- 341.5
3. Madeleine Witte Vrees - Charmeur - 250 - 87 --- 337
4. Gerdine Maree - Dark Pleasure - 252.5 - 82 --- 334.5
5. Diederik van Silfhout - Cupido - 243 - 83 --- 326
6. Diederik van Silfhout - Diego - 156 - 81 --- 237
Related Links
Franklin, Eye Catcher, Dark President Win Third Leg of 2014-2014 KWPN Stallion Competition in Zuidbroek
Van Vivaldi, El Capone, Dark President Win Second Leg of 2014-2014 KWPN Stallion Competition in Roosendaal
All At Once, El Capone, Desperado Win First Leg of 2014-2014 KWPN Stallion Competition in Ermelo
Previous Winners
El Capone, Desperado, Cupido Win 2013-2014 KWPN Stallion Competition
Desperado, Charmeur, Bordeaux Win 2012-2013 KWPN Stallion Competition Finals
Chippendale, Bon Bravour, and Apache Win 2011-2012 KWPN Stallion Competition
Bon Bravour, Amazing Star and Zhivago Win 2011 KWPN Stallion Competition Finals
Andretti, Zhivago and Wynton Win 2010 KWPN Stallion Competition
Zizi Top, Wynton and Vivaldi Win 2009 KWPN Stallion Competition
Wynton, Johnson, Dreamcatcher Win 2008 KWPN Stallion Competition Finals
Uptown, Tolando and Florencio Win 2006 KWPN/KNHS Stallion Competition Finals
Sandreo, Scandic and Rhodium Win 2005 KWPN/KNHS Stallion Competition Finals
Scandic, Ro-Lex and Prestige VDL 2004 KWPN Stallion Competition Winners
Rousseau, Paddox and Rubels Win 2003 KNHS/KWPN Stallion Competition