2014 FEI World Challenge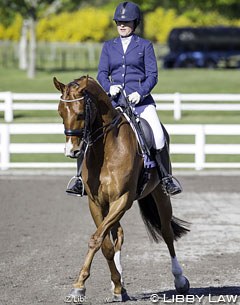 With only the results from Chinese Taipei still to be confirmed, China has nudged the New Zealand team into second place with three top performances totalling 211.91 easily heading NZL who finished on 206.84. The 2014 FEI World Dressage Challenge for Zone 9 includes China, New Zealand, Hong Kong, Chinese Taipei and the Philippines.
Swedish Bo Ahman and French Alain Francqueville are judging in Zone 9.
Two of China's top scores were in the Prix St Georges section giving them first and second place to date individually. Bing Gu is leading the Prix St Georges with a 71.711% score on the 13-year old chestnut Yumianfeilong (pedigree unknown to the FEI), edging out country mate Zhigin Tan on the 18-year old Oldenburg Calinka 16 (by Donnerhall x Zeus) with 69.079%. New Zealand's Holly Buckman and Devil's Chocolate are now in third with 66.908%.
New Zealand's Sheena Ross and Parkridge Disco SW (by Dancier x Wolkentanz x Anamour) still lead the Zone 9 Advanced class with 67.500% followed by New Zealand's Angela Lloyd on Ruanuku R (by Regardez Moi x Salute) with 63.986%.
At Medium level China's Ruiji Liang is in first place so far after a 71.125% earning ride on the 11-year old Dutch bred eventing horse Xiaofeixia (pedigree unknown). Philippines' Vic Barba and Ozzie are the runners-up with 68.063%.
In the team classification which includes the three best results of a country across all levels, China leads with 211.914 points, followed by New Zealand with 206.824 points and Philippines with 199.356 pts. Hong Kong has landed fourth place with 192.500 points.
A total of 107 riders have so far participated in the World Challenge for zone 9.
The provisional results for Zone 9 are linked here.
Photo © Libby Law
Related Links
New Zealand Riders Selected for 2014 FEI World Dressage Challenge Zone 9
Chilean Virginia Yarur and Team South Africa win 2012 Zone 1 FEI World Dressage Challenge