2014 CDN Bury Farm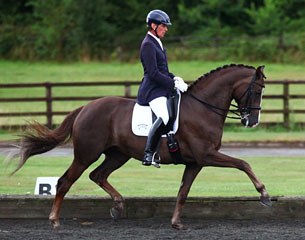 Bury Farm played host to a fantastic showcase of new, up-and-coming talent alongside dressage stalwarts at the last of 2014's British National High Profile shows on 28 – 30 November 2014. After a year of thrilling competition across the rest of the High Profile series, the Buckinghamshire-based venue had a lot to live up to – however, it definitely did not disappoint.
International Grand Prix rider Henriette Andersen took the top trumps over the weekend in both the grand prix and grand prix freestyle. Riding her own and Jennifer Charlesworth's 11-year-old Jazz-sired gelding, Warlock's Charm, Henriette was already on good form after winning the grand prix at Vale View's High Profile show earlier in the month with 'Ted', as he's known at home. Scoring a solid 71.70%, the duo stole the grand prix title from second place's Alice Oppenheimer with her mother's Headmore Delegate (71.13%). Proving to be an unstoppable force, Henriette and her partner of three years danced their way to victory in the grand prix freestyle, with a whopping 75.59% - almost five per cent above second placed Nicola Buchanan and her own Don Corleone VH Scheefkasteel (70.96%).
Fellow international rider, Emile Faurie also had a successful competition with some exciting, up-and-coming stars. Making their debut together, Emile and his ride, Kirsi-Maria Suomio's eight year old Danish mare Lerona topped the leader board in the advanced with a strong score of 67.22%. Similarly on Friday, Emile's second ride, Jessica Greelish's seven year old Sir Donnerhall mare, Cavalia made her premiere appearance at PSG. Scoring an impressive 70.13% - the only 70%+ score in the 25-strong class – the duo claimed first place in just their third outing together; a fantastic achievement and a very exciting prospect for the future.
18-year-old junior rider Maisie Scruton also made her debut at PSG over the weekend. Currently in her final year as a junior, she – along with her own 17-year-old Sandro Hit mare, Hot Chocolate – is looking to make the leap to young riders in 2015, which requires combinations to be successfully competing at prix st georges. After tackling their first PSG on the Friday, scoring a sound 66.97% to take ninth place, the duo learnt from their experience and upped their game on Saturday to produce an improved score of 68.07% to take the top spot!
Other under 25s out in force include stalwart pony team combination Phoebe Peters and her mother's 12-year-old Danish gelding, SL Lucci. The dynamic duo pulled another dazzling performance out of the bag, winning the pony team test on a huge score of 75.68% – over seven per cent above second place's Ottilie Bardsley and Becky Moody's Madam's Miss Maria (68.46%)
15-year-old, Charlotte Dicker took the junior team test top spot with 67.25%. Riding Ian McRobbie's nine year old German mare, Sabatini, the pair have recently been named part of the junior prime squad and, based on this performance, it looks like more victories could be heading their way in 2015.
Young rider progress squad member Ellie McCarthy beat competition from young rider prime squad members Tamsin Vaughan and Jessica Gale to take the top spot in the YR team test. Riding Spencer McCarthy's nine year old Danish mare, Churchill Casual scored 66.01%, achieving their first win in an FEI junior test.
Related Links
Eleven Dressage Riders Selected for 2014-2016 British World Class Development Programme
Photo Report: Snap Shots from the 2014 British Dressage Championships
Michael Eilberg Wins 2014 British Grand Prix Championships