Greatest Oldies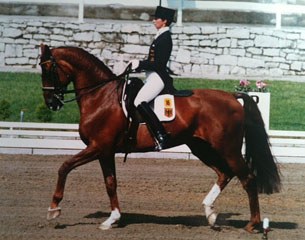 None who witnessed one of the worst torrential downpours the Aachen show grounds had ever seen will forget that day. The heavens opened and changed a well looked after dressage arena into a lake. Fortunate were those sitting under the roof of the grandstand, less lucky were the horses who had to perform in this deluge.
Dressage horses are not as famous for being weatherproof and they love to see where they put their hooves in. A few of them pulled their legs high in disgust of the splashing water under their belly, but one of their colleagues, Monica Theodorescu's Grunox, impressed all with the totally laid-back way he performed as if there was dry sand and no big puddles under his iron shoes. Grunox, the liver chestnut Hanoverian with the striking silver mane, had gone a long way from spooky youngster to a reliable mount that proved his worth on that rainy day at Aachen. 
All he required was a patient and skilful rider like Monica Theodorescu with her father George at her side. Grunox developed from a terrified pussy cat into a German Olympic team gold medalist. 
A Child of a Good Family
Grunox' life started in Ganderkesee, Germany, a small town in Lower Saxony where Bärbel Lehmkuhl and her husband had bred Hanoverians since the 1970s. Hanoverians are renowned for being excellent dressage horses and even though Trakehners dominated dressage before World War II, it had been a Hanoverian, Draufgänger, who in 1928 became the first Olympic dressage champion bred in Germany. Since then until the birth of Grunox in 1981 Hanoverian breeding became specialised and already in the 1950s a chestnut sire made himself a name as the father of successful dressage horses like Neckermann's Douglas, Klimke's Dux or Schultheis' and Mrs. Springer's famous Doublette: Duellant (by Dolman). Exactly this stallion returned in the pedigree of another chestnut renowned stallion, firmly putting Hanover on the map of dressage horse breeding: the small Grande (by Graf x Duellant), sire of countless Olympic and Grand Prix horses.
Both lines united in the Hanoverian chestnut Grunewald who was elected by Mrs. Lehmkuhl to match with her most beautiful Hanoverian liver chestnut mare Adria, a daughter of Absatz (by the legendary original Trakehner Abglanz) out of a Poet xx- dam. Grunox wasn't the mare's first foal, she already had given birth to two daughters by the Gotthard-son Goldpilz, who went on to become S- jumpers.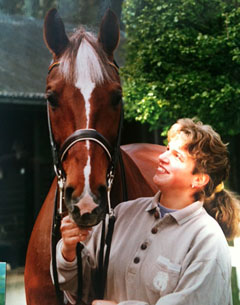 Grunox was Adria's first foal by a stallion with a dressage accentuated pedigree and who stood out with outstanding paces. The result showed early in the beautiful and well moving foal which Grunox turned out to be. His father Grunewald was renowned for his powerful paces and one of Celle's action trotters during the annual stallion parades.
Grunox grew up on his breeders' farm and was only castrated when he was about 3 years old. He was a very correctly and well built horse with good shoulder freedom and the ideal hind-leg angle. So far he had been the most amiable foal with a natural trust in people, but when he was broken in another side of the gelding's character showed: his hot temperament which manifested in a certain kind of spookiness causing side steps and stimulating his flight instinct.
Even though Grunox wasn't the easiest horse to be broken in, his quality as a dressage and also as a jumping prospect was never doubted. His potential was obvious so he was accepted for the 1986 Elite Auction in Verden, a place many breeders aimed their products be sold at into the capable hands of top class riders. At age five Grunox had already been started successfully in A-level dressage classes when he became part of the auction collection.
A Failed Auction Horse Learning the Ropes at Theodorescu's
The 5-year-old strapping gelding seemed a high class prospect for the sale, but it soon became apparent that his very sensitive nature couldn't stand the typical preparations for an auction. None of the auction riders came to terms with him and Mrs. Lehmkuhl wisely decided to withdraw her horse in his best interest.
When German horse dealer Ulrich Kasselmann heard about the withdrawal of the chestnut he was interested in bidding on, he didn't hesitate long and drove to his breeder to purchase this talent. Through his friendship with dressage trainer George Theodorescu who had bought the then S-winning Westfalian Ganimedes from Kasselmann, Ulli offered Grunox to the Theodorescu family.
"Mr. Kasselmann encouraged us to try out Grunox and finally sent him to us," reminisced Monica, who was then 23 years old. "But we didn't buy the horse. Instead Grunox remained in Mr. Kasselmann's ownership until the horse's very last day."
First Grunox had to survive a test phase in which Monica and her father looked if the horse was worth keeping, but both were promptly in unison that Kasselmann had sent them a highly talented dressage prospect. "Grunox had without a doubt very much quality with lots of movement, but he was also very easily frightened. Unlike with Ganimedes Grunox easily got scared, in particular of noises and then he could run away from in the indoor," Monica told Eurodressage.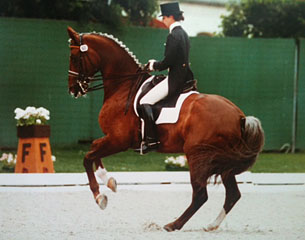 Still she believed in her horse because Grunox never got tired of working and learning. He was a quick and keen learner and progressed very well. With lots of patience his fears diminished in the course of his training and he panicked less when a bird flew off from the bushes, though he remained more sensitive to noises than other horses. "Because we spend much time with our horses apart from the training itself my relationship to Grunox became a very close one. I think this is important in general, but with such a sensitive horse it is ever more important because he needs to trust you to overcome the fears." Nowadays it seems en vogue to confront noise sensitive horses with a special kind of desensitisation by rolling their necks, but Monica didn't use something like that. "All we did was to calm him down when he spooked or when he was frightened of something. Moreover our property is located next to a busy road so Grunox got used to traffic in time."
Grunox' technical training went smoothly and in 1988 he made his debut at Prix St. Georges when he was 7. In his first season at small tour level he was carefully competed with only four starts at the shows in Walldorf, Wolfsburg and at the CHIO in Aachen. Monica was on the way to her first Olympic Games in Seoul and of course everything focused on that goal. Grunox did well at his S-debut, but unlike Monica's first Olympic horse Ganimedes, who was Grunox' stall neighbour at the Theodorescu's Lindenhof Stud near Warendorf, he didn't turn out to be a winner in his first year. He earned some respectable placings and was given another year at this level in 1989.
Like usual with the Theodorescu family he was slowly and patiently furthered in his training, but moreover Grunox was in the luxurious position to have several stable companions at Grand Prix-level, so there was not the slightest need to rush him to this highest level, at which he could have shown earlier judged by his abilities. Instead he celebrated wins at small tour level at CDIO Rotterdam and CDI Donaueschingen and placed in the top 3 at Aachen at small tour level as an 8-year-old in 1989. Five shows in 12 months allowed calm and steady work towards Grand Prix that year and Grunox "was such a workaholic. He never refused anything. He wanted to work and learn day by day and he also needed to work. Less than an hour each day and he was dissatisfied." Work not only included usual dressage training in the arena, but Grunox was also weekly hacked in the nearby forests and worked on the sandy race-track.
Big Shoes Grunox Filled Brilliantly
In 1990 Grunox was ready for Grand Prix, but Monica decided to take it slowly making the crucial transition some horses are never able to do. As the main focus stayed on Ganimedes, who was bound for the first ever World Equestrian Games in Sweden, Grunox remained at small tour- level until the autumn and this time earned his first victories at Aachen, winning the PSG and Inter I class.
Monica had chosen the international show of Donaueschingen in the very south of Germany for her rising star's Grand Prix debut. Scheduled in early autumn the classes was then held in front of the stylish Fürstenberg castle and provided a good opportunity to introduce the expressive liver chestnut to the highest level of competitive dressage.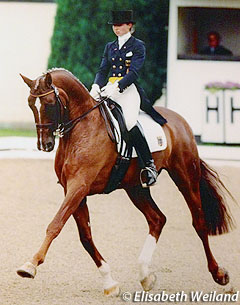 Grunox neither disappointed his rider, nor trainer, nor owner by finishing 8th in the Grand Prix and 7th in the Special. Just like Ganimedes the Hanoverian owned outstanding basic gaits which were extraordinarily loose and supple in every step. Grunox made everything look easy and effortless, his lateral work and canter pirouettes were the particular highlights, even of the inexperienced Grand Prix horse he was back then. It didn't take long and Grunox celebrated his first Grand Prix win in November 1990 at the renowned international indoor show of Berlin, which sadly no longer takes place.
Monica was then in the extremely lucky position to have two international calibre Grand Prix horses. Her 1990 WEG individual bronze medal winning Ganimedes spearheaded her collection and the ever-improving Grunox was a great back up. Unfortunately too soon she was forced to completely rely on the silver-maned youngster as Ganimedes suffered a tendon injury which sidelined him for almost the entire 1991 season. For Grunox this season became the one in which he stepped up to the plate,  filling Ganimedes' big shoes.
Even though his first victory came in his last class of the season at Berlin in late November, he placed in the top five at the most renowned shows on the European circuit. Throughout his first full season at Grand Prix with more than 10 international shows Grunox proved his consistency and reliability, even though it seemed too early to nominate him on the German team for the European Championships at Donaueschingen.
Joining the Club of Olympic Champions
In the autumn of the same year Ganimedes had his comeback and it became obvious that Monica had two potential horses for her 1992 Olympic campaign. Though differing one year in age, Grunox had turned out to be on a par with his famous black Westfalian stall mate. Grunox started early into the Olympic season by taking part in three World Cup shows with the aim to qualify for the final.
After having dominated the qualifiers in Dortmund, 's Hertogenbosch and Paris many experts considered him to be the favourite for the final in in Sweden in April 1992. Monica and Grunox met strong opposition from her own country mates though. After having won the warm-up class, an Inter II, Grunox ranked third in the Grand Prix and held this position in the freestyle behind Isabell Werth on the beautiful Westfalian chestnut Fabienne, who had the show of her life, and Sven Rothenberger's 17-year old KWPN gelding Ideaal. Even though some expected Grunox to win, a third place was a respectable placing at the beginning of a long season leading up to the Olympic Games in August. It might have been a hard decision, but Monica didn't want to go into the Olympic season waiting for one of her horses to beat the other. Instead she set all sails for Grunox as her Olympic choice with Ganimedes an equal back-up in case of injury.
In November 1991 the German dressage committee had declared the German Championships in Balve in mid June and the CDIO in Aachen at the beginning of July as the Olympic trials. Grunox had three outings before the first trial, at the CDI's in Mannheim, Dillingen and Wiesbaden where he won both classes. At Balve there was the first confrontation of Germany's top horses vying for a team spot. Making a clear cut comparison was difficult back then due to the fact the German Nationals were separated in a men- and ladies- division. Monica had decided to ride both her horses in the Grand Prix to fall back on only one in the Special. The first class ended with a little sensation. Not because Ganimedes beat Grunox, but because both of Monica's horses led the field in which the hot favourites Rembrandt (6th) and Gigolo (3rd) placed behind them. The result of the Special was not undisputed as Grunox had shown a very good test resulting in two judges placing him 1st while one more saw Gigolo in 1st place. Only 19 points separated Werth and her double European champion from the ever-rising Grunox.
At Aachen the final decision was made for team selection. It was also a dress rehearsal for the panel of judges who would be on duty in Spain later on. Grunox couldn't manage to stay faultless in the Grand Prix, but still placed 3rd behind Rembrandt and Gigolo, ahead of the other Olympic contenders Goldstern, Andiamo and Golo. In the Special Grunox showed a strong performance to place third again, only 8 points behind Rembrandt who was beaten by Gigolo. There was no doubt Grunox was among the dressage horses nominated for the Olympic Games.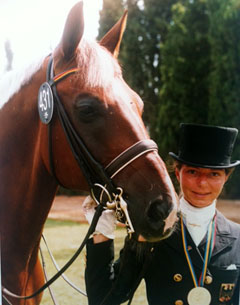 Unlike at Seoul in 1988 it wasn't necessary to fly the horses to their destination weeks before the event. So at the end of July the German dressage horses were flown out and even though it was high summer at home the heat at the airport in Barcelona gave a first taste of what was to be expected. The organisers had taken the typical Spanish "siesta" into account and the riders had to compete in the morning or late in the afternoon to avoid the worst of the heat, but it still became a challenge and not all horses coped as well as the 11-year-old Grunox did.
The heat is also the first thing Monica thinks of when she looks back on Barcelona. "I started on the first day of the Grand Prix around 6 pm, but still the sun was shining brightly with temperatures around 44 ° C. Grunox didn't mind, but my tailcoat wasn't black, but violet after the ride!" Grunox had shown an almost faultfree ride with highlights in the half passes, the walk and the whole canter tour, having given a textbook example of elegance and suppleness. Unfortunately Grunox was the drop score for the German team which would also have won were his 1776 points counted.
Although Theodorescu was the drop score it didn't mean she did not got the deserved team gold medal (at the time drop score eventers and jumpers didn't get one at those Games). However it meant that Grunox was not allowed to compete in the individual class as only 3 riders per nation were eligible. This rule which enabled more nations to join the final, but not necessarily the best. Monica doesn't look back with anger on a missed opportunity on the Olympic stage. She rather takes it philosophically: "The rules were known and if I compete under these rules I just have to accept them. It is useless to spend thoughts on something which I cannot change."
So Grunox, who placed fourth in the Grand Prix 45 points ahead of the 5th placed Bonfire with Anky van Grunsven, had to stay in his stall as Rembrandt, Gigolo and Goldstern secured all individual medals for Germany in the Special. Back from his first Olympic experience, the 1992 season was finished on a high note with a win at the CDI Frankfurt in December.
Grunox Braves the Weather at the 1993 European Championships
Being a workaholic of the grandest kind Grunox, who was nicknamed "Nöxchen" at home, didn't need a long winter break.  His 4th season at Grand Prix kicked off at the CDI Dortmund in March where he placed 2nd in both classes. The clearly defined goal was of course to join the German team for the 1993 European Championships in Lipica. This location originally was destined to host the 1991 Europeans, but due to the war in former Yugoslavia it was handed over to Donaueschingen but got a second chance in 1993.
Grunox had three good shows with high placings before the German Championships in Verden in June. There he only placed a rather disappointing 4th in both classes, but he triumphantly proved his quality at the CHIO in Aachen by winning the Grand Prix, the kur and he finished second in the Special. Winning the CDIO Grand Prix at Aachen is something every dressage riders dreams of achieving one day. Monica was able to do it with two different horses.
Grunox continued to be in winning mood by taking first place at the CDI Hamburg a mere month before the European Championships, where he joined Klaus Balkenhol's Goldstern, Nicole Uphoff's Grand Gilbert and Isabell Werth's Gigolo on the German team. He had proven that he was able to beat the best horses, even though Rembrandt was missing after the German Championships, where he had been kicked on the knee in the lap of honour and had to take a break a long time to recover from a bone chip.
Today Gigolo is remembered as a horse almost invincible in his ten years at the top, but at Lipica no horse was closer to dethroning him than Grunox. As Barcelona remembered for its incredible heat, "Lipica turned out to be a very wet and muddy affair. As a consequence the ground was very deep," Monica remembered. The weatherproof Grunox showed a flawless and expressive Grand Prix to dominate the whole field of 40 starters from 14 nations. Team mate Goldstern was the closest to him in the rankings with 22 points less. It was the agile Hanoverian's first and only gold at European Championships.
At Lipica like at Donaueschingen two years earlier the riders had to decide for the Special or the freestyle in the individual competition. Monica and Isabell Werth opted for the Special and the latter left no doubt that she and Gigolo were ready defending their title after a disappointing Grand Prix. In typical Werth style she rode with risk and posted a score of 1552 points that put her clearly in the lead. Monica knew that Grunox was still able to crack that result and for a long time it looked she were beat it. Her horse due to his extreme suppleness, floated from one difficult movement to the other, with wonderful canter pirouettes and a very good walk. The last few metres on the final centreline was where Grunox lost the individual title. For a short time he wasn't focused on his rider and this had probably been the 6 point deficit that put the pair behind Isabell Werth, still with two judges putting Grunox first.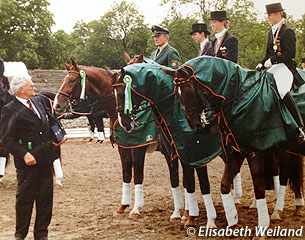 As disappointing such a close result may be, Monica was happy that Grunox had won her another individual medal after Ganimedes did in 1990. "Every individual medal is something very special which is treasured. And of course if you work with a horse for years and want to be competitive medals are the icing of the cake. But it isn't entirely decisive for how much you like your horse and what it gives you in all the years of the partnership," she stated.
With a shiny individual silver in their pockets Grunox' future looked bright, even more so when he closed his season with two wins at the renowned Stuttgart German Masters in the autumn.
From Sport Invalid to Comeback Kid
In 1994 the second World Equestrian Games took place in The Hague as the highlight of the dressage season. Also there the individual competition was split in a freestyle and a classical (Special) division, so hopes were justified for Grunox to crown his career there.
His year-long consistency continued with two wins at CDI Dortmund in March before he returned to Aachen where two second places safely landed him a team spot in his third year running. Instead of travelling to Holland to represent Germany Grunox' career was seriously threatened, if not over, when all of a sudden he went mysteriously lame behind. In Grunox' case a quick and safe diagnosis for effective treatment turned out to be wishful thinking. For months vets tried to fathom the origin of his failing soundness. Finding the cause took months in which it an early retirement loomed behind the corner.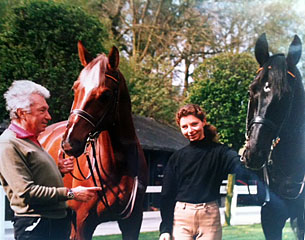 "After several months in the almost dark we more and more accepted the fact that Grunox would remain a sport invalid and would not return to the show-ring," Monica looked back on that nerve-wrecking phase of her career. Of course the horse had given her already much and he didn't owe her anything to be pushed back at any price, but as Grunox was a horse who just loved to work and give his best day by day it was in his own interest to come back to full health. "When we had already given up all hope we finally got a diagnosis which turned out to be the right one. Grunox' lameness was caused by a knee injury," she said.
The horse was treated effectively and very carefully began to be trained again to see if the leg would stand more serious work without the danger of renewed damage. A small miracle happened and when Monica and her father noticed that Grunox had come back to full fitness without any sign of wear and tear, they decided to start him at a national show at Aachen prior to the CDI Dortmund. After being out of action for almost two years Grunox placed 4th and 7th, but was really his old self at Dortmund, winning both classes and proving that he restarted where he had involuntarily stopped many months ago.
The year 1996 was not only Grunox' comeback year, but also an Olympic one and after several very high placings, two wins at Wiesbaden and a silver medal at the German Championships Monica and her horse were nominated for the German team for the CDIO Aachen. It was a  clear message from the selectors that they had faith in Grunox' health and his ability to score highly. After a fifth place in the Grand Prix, the now 15-year-old finished second in the Special and kur.
His second Olympic nomination was a formality then, very unlike to the selection of Rembrandt who was only chosen as reserve horse. Uphoff considered this unacceptable and as title defender she managed to get permission to start as an individual in Atlanta.
The German horses flew to Atlanta shortly after Aachen to have sufficient time to get used to and train in those climate conditions which were feared to be very hot and humid at the same time. Monica knew from former experiences in Barcelona that Grunox had no problem performing to his best in hot weather. The German dressage horses (Grunox, Goldstern, Gigolo, Durgo and Gracioso as travelling reserve) flew out on 3 July 1996 and had to endure the usual quarantine at the airport in Atlanta. After that all moved to the Merichase Farm to have some focused team training. Monica and Grunox were supervised by George Theodorescu, but also team trainer Harry Boldt, who did his last championships in that function since he took up the job at the beginning of the 1980s.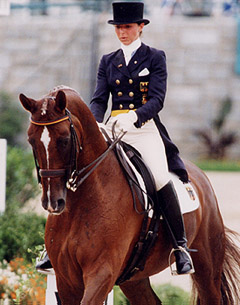 After the move to the Olympic venue, the Georgia International Horse Park in Conyers outside Atlanta, the vet-check was held. Grunox passed it with flying colours and impressed everyone with his freshness. Unlike at Barcelona he was drawn as third starter for the German team and had to compete on the second day of the Grand Prix. The stadium was quite huge and offered several opportunities for horses to take a closer look at something. Grunox wasn't different and appeared a bit tense at the beginning of his test, breaking into canter after the halt, forcing Monica not to risk anything in the first extended canter in which Grunox usually was able to score highly. Another small hiccup in the one-time-changes in the otherwise very good ride earned both the second best result for the German team. They had to face quite strong opposition from The Netherlands, but in the end won the expected team gold medal, Monica's third, with more than 100 points ahead of Holland.
In a field of 49 Grunox was 5th after the Grand Prix, which was an excellent starting position for the other two classes. In Atlanta all three tests were added together to decide the individual medals. After a two-day break the Special took place. Grunox only had a small moment of anxiety when the rhythm was interrupted in an extended trot. He scored highly in the canter tour, especially in the pirouettes, but lost valuable points in the piaffe which were lacking activity. Still he held his fifth position overall, but was in close contention with Michelle Gibson (USA) and Peron as well as with another silver maned Hanoverian liver-chestnut, Sven Rothenberger's Weyden. Monica was aware that she was still in for the bronze medal as her freestyle had a very high degree of difficulty and an appealing choreography. When Michelle Gibson showed an almost disastrous kur the door to bronze opened even wider. Risking a lot Grunox and Monica had a deja-vu: on the final centre-line Grunox spooked in the piaffe, just like at Lipica three years before. In the end the minor difference of 0,38% after three classes decided against them and Sven Rothenberger took the individual bronze on his recently purchased licensed stallion Weyden.
While she was overall satisfied with the Barcelona experience Monica felt a bit hard done by in Atlanta. She knew that with such a minor difference it could also have been the other way around and no doubt her horse  also deserved the bronze medal. Still it had been a wonderful year having Grunox back in action in such an impressive way after his long abstinence from the spotlights.
Member of a Pensioner Gang
Monica didn't knew it back the, but Grunox' appearance at the 1997 CDIO Aachen, his 7th, became the farewell of her horse from the big dressage spotlights. With 5th and 6th places in the CDIO-tour Grunox was again in team contention for the European Championships in Verden, but at the final trial, the German Championships, he practically decided by himself that he was ready to leave centre stage.
"At Münster I sensed that Grunox was not as usual. I interpreted it that he wanted to signal me that he had had enough and as a consequence we immediately retired him," she said. 
Retirement at 16 didn't mean hanging around in the fields. Monica continued riding her horse for three more years and Grunox also disclosed the secrets of upper level dressage to a young student who was allowed to learn from him.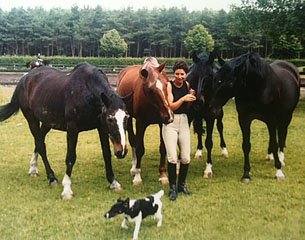 When Grunox neared his 20th birthday Monica decided to introduce him to a very special herd of horses grazing in the fields behind the outdoor arenas on her parents' property. At Monica's Lindenhof the horses they own get their well deserved retirement on the property and are not taken away from their trusted surroundings and people. A gang of three pensioners awaited Grunox on the day when he was put in the field with them for the first time. Monica's other Olympic champion Ganimedes, undisputed herd leader, his half-brother Sympathico and Monica's second Grand Prix horse ever, Lexikon, welcomed the new member.
In the following six years Grunox enjoyed a retirement wished for every horse: out in the field with his buddies daily. After 21 years with the Theodorescus the horse showed clear signs of old age and had to be put down at age 26. The passing of Grunox meant the end of "a very intense partnership. I had spent so much time with Grunox and he had stamped me his special way," said Monica.
Sure she wonderful memories of her time with Grunox. One particularly fond memory is the recollection of Grunox in the lake of the Aachen main stadium in which he took his very own kind of lap of honour, ploughing the water with his forelegs, always at the edge of lying down ready to roll with a thunderous crowd in the tribunes. The joy he gave his onlookers with such play was as big as his performances in the arena. Probably because Grunox' swimming lessons at Aachen proved that for Monica he was far more than just a successful sports partner. He was a personality, a friend, a family member.
by Silke Rottermann
Photos © Elisabeth Weiland - private - Ernst
Related Links
Ganimedes, The Magnificence of Movement
Monica Theodorescu: Backed by History, Facing the Present on Home Bred Horses
Inge Theodorescu Passed Away - Georg Theodorescu Passed Away
Monica Theodorescu Appointed New German Team Trainer