2014 Toronto Royal Horse Show CDN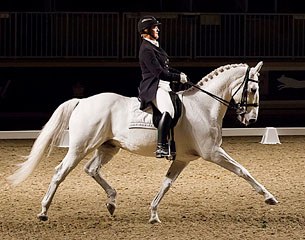 Dressage rocked the house at the 2014 Toronto Royal Horse Show on 13 November with Jacqueline Brooks winning the Grand Prix Freestyle portion of the $20,000 Royal Invitational Dressage Cup. Karen Pavicic's consistency across the two days of competition earned Don Daiquiri the overall title. Only four Canadian riders contested this national Grand Prix tour at The Royal.
Brooks (Cedar Valley, ON) and D Niro laid down the freestyle of the evening with 73.750%.
"Jacquie's test was a very well done freestyle with many good lines and a good pattern," commented Peter Holler, judge at C this evening. "Highlights for sure came in the piaffe and also in the trot."
Brooks' custom music included personalized segments from the Flower Duet from Delibes' Lakme; Les Miserables and Nessun Dorma; and suited her powerful, expressive gray, D Niro, to a T.
Surrey, BC, native Karen Pavicic finished the Freestyle in second tonight, but combined with her win yesterday, meant she would be the overall Champion with the accurate and methodical Don Daiquiri.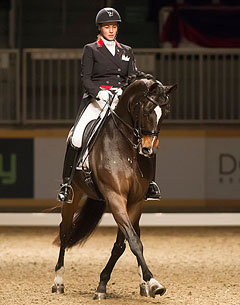 Their test this evening was nothing if not ambitious, from halt right into one-tempis into a canter pirouette; rocking away to crowd-pleasing One Republic, American Authors and Avicii.
"I am super proud of my horse," gushed Pavicic. "It was his first time in an indoor atmosphere like that, and he was really nervous. But he held it together really well and it's a great finish to the year."
Equally impressed were the judges, awarding Pavicic and Don Daiquiri 73.167% for their Freestyle.
"Karen's horse has a lot of energy and she had a lot of ideas in her test," said Holler of the final pair. "The music may not be to everyone's taste, but I found it fits the horse and rider really well. There is a lot of potential in this pair."
Jill Irving of Moncton, NB, rode Pop Art conservatively for those used to seeing "Poppy" in the winner's circle at The Royal, but put in a perfectly respectable test for a freestyle score of 70.458%. Irving is no stranger to winning at The Royal however, having multiple hunter championships under her belt before switching to dressage.
Britney Fraser (New Glasgow, NS), rode Countess to third with a score of 69.625%.
Results - 2014 Toronto Royal Horse Show
Grand Prix
1.Karen Pavicic / Surrey, BC / Don Daiquiri / 70.067%
2. Jacqueline Brooks / Cedar Valley, ON / D'Niro / 67.667%
3. Jill Irving / Moncton, NB / Pop Art / 67.367%
4. Brittany Fraser / New Glasgow, NS / Countess / 65.733%
Grand Prix Kur to Music
1. Jacqueline Brooks/Cedar Valley, ON/D Niro/73.750%
2. Karen Pavicic/Surrey, BC/Don Daiquiri/73.167%
3. Jill Irving/Moncton, NB/Pop Art/70.458%
4.Britney Fraser/New Glasgow, NS/Countess/69.62 
Related Links
Marcus and Creech Take Top Honours at 2013 Royal Winter Fair in Toronto
Pop Art Goes Out on a High Note at the 2012 CDN Toronto
Scores: 2011 CDI Toronto