Eurodressage Market - Photography
ORDER NOW !! Shakespeare said it well: "the readiness is all." Be prepared for the 2014 Christmas holiday season and order your Eurodressage photo albums, collages, iphone covers, and other photo presents well on time so we can deliver you these wonderfully unique and custom-made presents on time to unwrap gifts near the Christmas tree!
Did you compete at the 2014 World Young Horse Championships in Verden, the 2014 World Equestrian Games in Caen, or the European Pony, Junior, Young Riders Championships in Arezzo or Millstreet? Maybe you were at the CDIO Aachen, or any major CDI dressage event in Europe or Florida.  Changes are great that we have photos of you or your horse!!
Eurodressage Photo Albums
A photo album can be the ultimate show memory! We create a custom hardcover photo album on glossy high quality photo paper with the best photos  we photographed of you at the Championships.
You can put this album on your coffee table to show to family and friends. Eurodressage only delivers the best of the best. We spend much time and effort into preparing the photos optimally and insert them in a beautiful way into the album.
Photo Album Options
Large Photo Album = 28 cm x 21 cm = 275 euro (includes approx. 30 photos)
Extra Large Photo Album =38.8 x 29.1 cm = 450 euro (incl. approx 70 photos)
Example of a few pages in the Extra Large Photo Album


Eurodressage Photo Collage
Order your collage of three to five of your best Eurodressage photos and we'll set it to a stylis background! Our collages are a true work of art and can be a centerpiece in your office or living room.
Collage options
3 photos in the collage: size 40 x 60: 250 euro ---- size 50 x 75 cm: 275 euro
4 photos in the collage: size 40 x 60: 300 euro ---- size 50 x 75 cm: 325 euro
5 photos in the collage: size 40 x 60: 350 euro ---- size 50 x 75 cm: 375 euro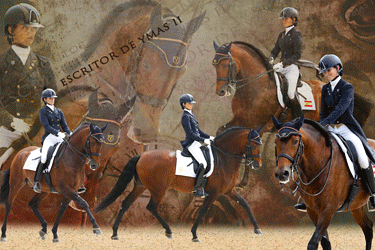 Smart Phone Covers
Choose a vertical Eurodressage photo to your liking and we'll make an iPhone/Smartphone cover of it. This makes a fun present for kids and mobile phone gadget geeks.
We can make covers for iPone 4/4s and 5, as well as for the Samsung Galaxy S4/S5
Cell phone cover = 35 euro
All prices include postage and handling of your order, excl VAT
Your Photo Wish is Our Command !!
Of course we can make collages and albums of photos Astrid Appels took anywhere in the world. We have archived material dating back to 2004 and can make a career album or specialized show album or more. Standard photo prints and posters are certainly an option too. We tailor to your photo wishes.