Vechta Auction News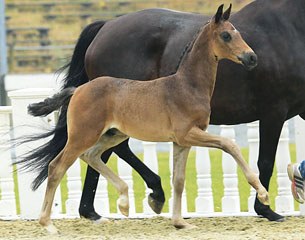 The colt Dechamps (by De Niro x Florencio x Rubinstein) became the price highlight of the 2014 Oldenburg Elite Foal Auction in Vechta, Germany, on Saturday 23 August 2014. The colt sold to a German buyer for 48,000 euro.
The Oldenburg foals achieved top prices. Two more foals sold fro 40,000 euro. Danish clients acquired Elfenliebe (by Diamond Hit x De Niro x Rohdiamant) and Belgian customers bought Grossfurstin (by Furst Romancier x Sandro Hit x Rubinstein) for that knock down price.
The best selling jumper foal was My Crack (by Mylord Carthago x Calido x Cento) which sold to Singapore for 16,000 euro.
The third most expensive dressage foal was Grey Falcon (by Grey Flannell x Stedinger x Concetto) which sold to Russia for 35,000 euro.
Belgians bought Amrum (by Ampere x Wolkentanz x Wanderbusch II) for 25,000 euro. Berlin based clients bought Livestream (by Livaldon x Santander H x Freiherr) for 22,000 euro. Vielliebchen (by Van Vivaldi x Sambuco) sold to Bavaria for 21,000 euro.
Franziskus' foals were highly coveted. A Baden Wurttemberger client acquired Fourtyfive (by Franziskus x De Niro x Insider) for 25,500 euro, Spanish customer bought Fandango (by Franziskus x Don Schufro x Florestan) for 20,000 euro.   
 
The average price for a foal at this auction was approximately 12,000 euro.
Photo © Tammo Ernst