2014 CDI Deauville
Marc Boblet, the highest placed French rider on the FEI Dressage Riders Ranking, rose to the top of the leader board in the Grand Prix Special at the 2014 CDI Deauville. Aboard the Dallara family's black mare Noble Dream (by Caprimond), Boblet scored  71.549% and edged out team contender Alexandre Ayache on Lights of Londonderry.
Even though the foreign competition was tough in the Grand Prix and Kur to Music, there was much room for the French riders to ride into the spotlight in the Grand Prix Special and catch the attention of the public and staff of the French Equestrian Federation. Deauville being on official selection trial for French team selection for the 2014 World Equestrian Games, hopes were satisfied as the top FEI ranked French rider presented a fluid test.
His fellow countryman Alexandre Ayache, recently submitted to the OG / WEG A-team, was a strong second. Portuguese Carlos Pinto, 6th in the Grand Prix on Friday, rode his Lusitano Soberano III to third place.
Françoise Hologne-Joux (BEL) Claims 8th International Victory this Season
 
Belgian Françoise Hologne-Joux has booked an incredible eight international victory during the 2014 show season Aboard her bay Hanoverian gelding Warhol, she won the Inter I kur to Music. Based between Charleroi and Beaumont in Belgium, Françoise  took home yet another trophy.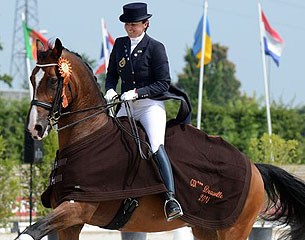 "Warhol is quite able to win a St Georges or Intermediaire I," she explained. "I was a little disappointed the first day that I finished 3rd as I had made some small mistakes."
Warhol is extremely competitive at small tour level, but Francoise brought Wodan for the big tour, as she is aiming for Belgian WEG team selection as well. 
"I was able to become an A-team member in the running for the Belgian team for the World Championships. I was missing a certain percentage, and I finally got it. The next step takes place next weekend with the Belgian Championship where I will ride three successive classes. The selection will be decided on the final standings at the end of these three phases."
If the Belgian pocketed her ticket for the Games, it would be her second appearance at the World Equestrian Games after the 2006 in Aachen (GER).
 
Hélène Legallais Takes Two in U25
 
After accumulating titles and victories at international young riders' level, Hélène Legallais has definitely opened her international hit list and successfully moved into the Under 25 division. After a 5th place in the national Grand Prix at Auvers in May, Helene took a new step in her accession to the highest level, winning both U25 tests at the CDI Deauville.
Legallais' fellow countrywoman Charlotte Chalvignac finished second with a difference of only 0.884%.
Related Links
Scores: 2014 CDI Deauville
Kristy Oatley and Ronan Take Out Kur Victory at 2014 CDI Deauville
Mixed Fortunes for Aussies at WEG Selection Trial at 2014 CDI Deauville