Eurodressage F.O.C.U.S.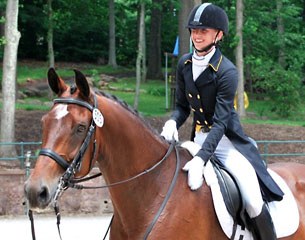 Living out a "real-life fairtytale" at the 2014 U.S. Dressage Championships in Gladstone (USA) on 12 - 15 June 2014, US rider Laura Graves and her 12-year old Dutch gelding Verdades took the dream silver spot, finishing just behind routiniers and triple US champion Steffen Peters. Graves was the revelation of Gladstone, outclassing seasoned Olympians and team riders and securing her ticket for the 2014 World Equestrian Games!
"Gladstone has been a fairytale and while I am always looking to improve, I could not be happier to finish the American championships in the number 2 position," the 26-year old Laura told Eurodressage. "While I have been aware of this horse's potential for many years, the horse has never had a chance to shine in the show ring until now!"
Entering the Nationals as a relatively unknown youngster against the biggest names in US dressage, the Geneva (FL, U.S.A) born country girl, started the championship with a very welcome fourth place in the Grand Prix and that was just the beginning of the magical weekend. A runner-up in the Special on 74.549% to the US defending champion Steffen,  Laura pulled out another stand-out ride, trailing Steffen again to take silver in the kur with an outstanding 78.425%.
These results, according to Laura, are thanks to a great support team and the huge decision she made after her last CDI during the winter at Dressage in Florida to leave her business in Orlando and spend all the time she could with trainer Debbie Mcdonald in Wellington.
"I took lessons, watched lessons and learned everything I could," she said. "This steady training over the past 2 months was no doubt one of the main factors in our success."
Previously coached by Anne Gribbons, Laura discovered Verdades, or "Diddy" on video. Her mother selected the Florett As offspring from a VHS tape sent to them by a dealer.
"We saw dozens of foals but my mom saw something special in this one," she said. "He is extremely goofy and social on the ground but under saddle he is all business. He works so hard to please which is an incredible gift but can also cause him to make mistakes. He is very sensitive, mind- and bodywise, and so we must be sensitive in our training. He is really coming into himself and reaching a confidence level that had been lacking."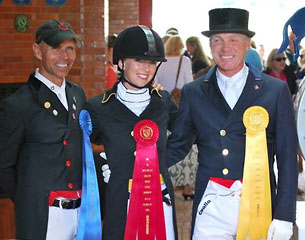 Jetsetting to Europe on Wednesday 18 June 2014, Laura confirmed her main focus will be on maintaining the fitness and health of her equine partner. She will train with quality, not quantity.
"Specifically, I would like to focus on working my horse in a longer frame, especially with the tension on show day, he can become short and tight in his topline," she added.
With a secured position on the U.S. Team for the 2014 World Equestrian Games Laura's goal in France is to produce a strong, mistake-free test.
"We are both so green but we will do everything in our power to make our country proud," she stated.
Graves is totally committed to her profession and admits that she barely has a life outside of horses. However that is how she likes it!
"My aim for the rest of the year is to gain as much European exposure as we can and learn as much as possible from the best riders and trainers in the world," she concluded. "When our European adventures end, we will return to Florida where we will both enjoy a little rest and recuperation. As far as future US teams go, we are up for it! As long as my horse is happy and fit we will continue to compete."
Text by Sarah Warne
Related Links
2014 U.S WEG Short Listed Riders Announced for European Training Camp
Peters Scores Double National Title, Sadis Pony Champion at 2014 U.S. Championships