FEI News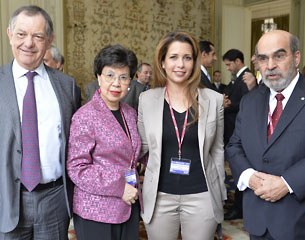 The Fédération Equestre Internationale (FEI) is celebrating reaching a major milestone in its drive to improve the international movement of high-level sport horses, after a pivotal decision by global members of the World Organisation for Animal Health (OIE).
Representatives from 178 countries attending the General Session of the World Assembly of OIE Delegates in Paris (FRA) today gave a resounding green light to the adoption in principle of the "high health, high performance horse" (HHP) concept within a new OIE Terrestrial Animal Health Code Chapter.
This significant step means that there is now a specific OIE mandate to work with governments around the world to ensure a harmonised process for moving top-level sport horses for major international competitions.
The HHP concept will be rolled out in 2014, and Korea has already implemented import requirements based on this concept for the 17th Incheon Asian Games 2014 (19 September - 4 October).
The news comes less than 18 months after the FEI and the OIE embarked on a three-year public-private partnership in response to a clearly expressed demand from countries for help in improving the cross-border movement of top-level sport horses.
The OIE delegates' endorsement of the HHP concept also follows last November's creation by the FEI and IFHA of the International Horse Sports Confederation (IHSC), the first formal alliance between the world's leading governing bodies for racing and equestrian sport, which has a primary goal of improving horse transportation.
Several international conferences organised for government veterinary and animal health experts around the world over the last three years, including in Hong Kong, Panama City and Mexico, have also contributed to the support of HHP.  
"This is a landmark development in global access to equestrian sport. It means our athletes, who are working so hard to represent their countries at key international events, including the Olympic and Paralympic Games, have the opportunity do so in future with practical and safe horse movement approaches from governments around the world," explained HRH Princess Haya, FEI and IHSC President.
"We are extremely grateful to everyone within the OIE, FEI and the racing world, who have seen the necessity for this, and have dedicated themselves to enhancing horse sport and further opening up the economic benefits for communities working with horses. We're now looking forward to the job ahead, and to working to create the conditions necessary for success."
"We have worked with the FEI for over ten years to identify practical national veterinary requirements, and we have recently advanced further quickly, presenting government experts around the world with solutions to meet their specific requirements based on the OIE standards of compartmentalisation and harnessing our public-private partnership. This has been key to today's outcome," said OIE Director General, Dr Bernard Vallat.
"Our members fully understood the need for finding a way with all details needed to better recognise the lower risk of moving such highly supervised horses within OIE Standards, and the HHP concept does that. There has also been a recognition of the economic impact of the equine industry and this concept will allow countries to tap into the potential income associated with increasing numbers of FEI and horse racing events."
"It is vital for the growth of equestrian sport that horses can move safely and easily to compete at the world's biggest events", said Louis Romanet, Chairman of the IFHA and Vice President of the IHSC. "This latest development follows intensive efforts by the OIE, FEI, IFHA and veterinary and government experts around the world to adopt an improved specific approach to international movement of our top-level sport horses, and this will have a deep impact on the future of both international racing and FEI sport."
Related Links
Historic Asia, Far East and Oceania Collaboration on Movement of Sport Horses