2014 CDI Wellington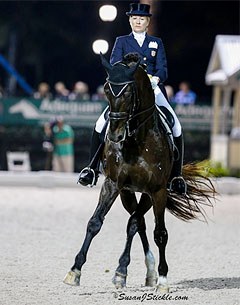 American Chris Hickey topped the Prix St. Georges, Adrienne Lyle finished first with Peggy Thomas' Wizard in the Grand Prix Special CDI 5*, Megan Lane (CAN) and Caravella clinched the first place prize in the Grand Prix Freestyle CDI 3*, Olivia Lagoy-Weltz won the Intermediaire I and Tina Konyot (USA) took top prize in the Grand Prix Freestyle CDI 5* at the 2014 CDI Wellington on 26 - 31 March 2014.
Konyot Wins the 5* Grand Prix Kur
The Grand Prix Freestyle CDI 5* was the finale event of the "Friday Night Stars" series in Wellington and ended it in great fashion with a packed house of spectators.
Konyot (USA) received a crystal horse for her winning ride with Calecto V, her 16-year-old Danish Warmblood stallion by Come Back II. The pair earned an impressive 79.250% to pick up the top prize for the class, while second place finisher Mikala Gundersen scored a 76.775% with My Lady. Third place went to fellow Dane Lars Petersen and Mariett. The pair scored a 76.625% for their performance. Petersen was also awarded the Mary Ann McPhail Award for maintaining the highest international ranking of any rider throughout the twelve weeks in Wellington.
"Calecto is like a fine wine," Konyot grinned. "He just keeps getting better. I had a wonderful ride, just a great way to end the season. I had a wonderful experience; a great ride, a great feeling, great energy."
Konyot was happy that Calecto seems to be peaking as he heads into the World Cup Dressage Finals in April and was also especially pleased to earn their highest score yet in the grand prix freestyle. "I've always been up in the 70s, but this has been my highest score so far. It's a very good feeling, especially going into the World Cup, where [the freestyle] is an important score for me, so I'm very happy about that," Konyot shared.
For the weeks leading up to the World Cup, Konyot will continue the same routine with Calecto, always striving to put her partner's needs first to ensure his happiness and health. "He's 16 years old, he's done a WEG, an Olympics. This is not new for him, it's not new for myself either, so we just want to have a great frame of mind, keep ourselves fresh, happy and healthy," Konyot remarked.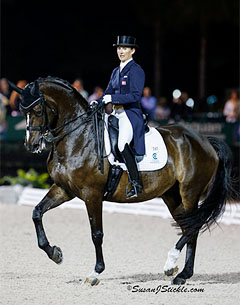 Second place finisher Gundersen also enjoyed a personal best on Friday evening after a season of working on the mare's fitness. "I have the vet check her after each show just to make sure everything is great, and he says, 'It's just amazing- this horse gets better and better every time I see her,'" Gundersen smiled. "I'm very happy with tonight. I had more collection in the canter today. I had been missing that a little bit in my prior tests, and that's getting much better. I had some really good things in there today. For sure it's our best test so far."
Gundersen saw her horse develop over the course of six CDI competitions. "I think she's also gotten better in the season," Gundersen commented. "She's not a young horse, but she's still quite young in the grand prix, so having all these shows one after another has been very good for her. She's matured enormously this season. She was so calm and so wonderful to ride tonight."
Petersen also felt that Mariett was at the top of her game tonight. Of his ride, he commented, "I think tonight she was the best to ride that she has been, actually. I have a little thing at the moment with my piaffes, I have to keep them a little forward. And that's a little bit expensive, but I'm very happy with her tonight."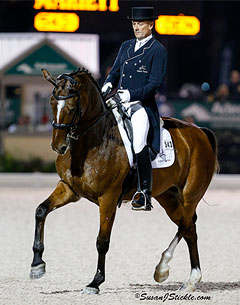 Petersen has used his trademark circus-themed music for his freestyle for the past two years, but tweaked the choreography at the end of the season. He edited the one and two tempi changes, originally performed on a 20 meter circle in the middle of the arena before another line of two tempis.
"I'm getting too old to be riding that many tempis on a 20 meter circle!" Petersen joked. "That's very difficult to do, and it's such a big risk. You get one mistake in 31 tempis [and it can be costly], so that's why I took it out. It's too risky."
Megan Lane and Caravella Earn Top Call in Grand Prix Freestyle CDI 3*
Young professionals ruled in the Grand Prix Freestyle 3*, with Canada's Megan Lane (22) winning the class with Caravella. The pair score a 71.600% for the blue ribbon, while 26-year-old Laura Graves (USA) and Verdades took second with a 70.250%. Third place went to Gary Vander Ploeg (CAN) and Degas for their score of 68.350%.
"I love riding my freestyle because of the amazing atmosphere that it creates for my horse," Lane beamed. "She goes exceptionally well, so it's always exciting to ride it. This is actually a new freestyle for me; it's only my second time riding it. It's done by Joost Peters, compliments of Deeridge Equestrian, who I ride for."
Of her Spanish-themed music, Lane continued, "It's so much fun to ride to. The Spanish theme I acquired because I had ridden it in the Young Riders, and I think it suits her personality. I really enjoy riding to that style of music."
Lane listed several elements of her choreography as points that raise her degree of difficulty, including piaffe and double pirouettes, one and two tempis on a circle, and an extended trot on a loop.
"There was a little mistake in the one tempis, but because of the degree of difficulty in that, something always happens! Our piaffe-passage was definitely a highlight this time, too. I'm really happy with that," Lane explained.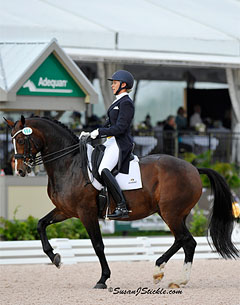 Lane has her eyes on making the team for Canada in the World Equestrian Games (WEG) later this fall.
Second place finisher Graves agreed, noting that she and Verdades have developed immensely as a team. "I really feel like our partnership has grown. We're having a much more adult conversation these days. He plays in the field and we play in the stall and he's a very goofy horse to be around, but getting in the arena and right away getting to work [has noticeably improved]," Graves explained.
Graves admitted that Verdades has always been a challenge, but her hard work and patience have paid off. When she realized their recent scores could qualify her for the WEG selection trials in Gladstone, NJ, she quickly threw together a freestyle for Verdades.
"When I realized I might have the scores to get to Gladstone, obviously one of the requirements is to do a freestyle. So I threw this together, and it obviously needs a lot of tweaking, a lot of rewriting of the choreography," Graves acknowledged.
Of her test on Friday evening, she added, "He went right into the canter pirouettes. He's riding a lot more like a trained horse, which is nice. I can ride him right up to it and then half-halt and turn him, and he was pretty honest. Also, because I don't really know where I'm going in there, he has to stay with me and just kind of trust that we're going to end up where we need to be."
Adrienne Lyle and Wizard Ace Grand Prix Special CDI 5*
Adrienne Lyle (USA) and Wizard capped off an incredible winter season with another victory lap after winning the Grand Prix Special CDI 5*. The pair earned a top score of 75.588% to earn the class by a substantial margin. Second place went to fellow American Michael Barisone, who rode Ellegria to a 69.392%. Cesar Parra completed an All-American top three with Van the Man. The pair earned a score of 69.078% for third place.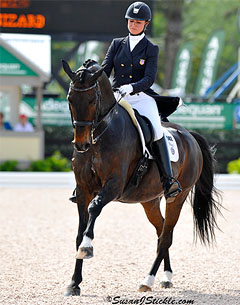 Friday afternoon's score was another personal best for the pair; Lyle described their performance as the perfect ending to a stellar season.
"It's been a big changing season for him because he's been up and down and kind of all over the place [in previous years]," Lyle said. "To have the chance to come to a facility like this and show on a regular basis, and not have it be a huge ordeal [is fanastic]. You're not putting them through a ton of transport. The footing is great, the stabling is great, so I felt comfortable showing more than I maybe have in the past. I think that's starting to make it more workman-like and more routine." 
Lyle admitted she would have loved to ride the Grand Prix Freestyle CDI 5*, but was committed to making her long-term goals a priority. The pair needed to put in some practice in the Special leading up to the World Equestrian Games (WEG) selection trials in Gladstone, NJ.
"I felt less rusty than last time. I chose to do the Special because it is so important for Gladstone and for the WEG qualification. As much as I would have really loved the freestyle tonight, I had to keep our long-term goals in mind, and I'm really glad I did. To have a Special that solid under our belt is really helpful for both of our confidences," Lyle shared. 
Barisone was equally thrilled with Ellegria's performance, remarking that he never have imagined he would have the success he's experienced with her. "She's a wonderful horse. She's honest as the day is long. She's very simple to ride all the time. I just never thought we would be around 70%," Barisone expressed. "I watch my tape [of their rides] and I say there's at least five more percent there, at least. This is a dead green, eight grand prix under her belt horse, and I'm getting second to [Adrienne], who's been to the Olympics with her horse. I'm happy and proud to be in there, and I think she's got a really long way to go."
After his two top grand prix mounts were sidelined with injuries right before the 2012 Olympic Games in London, Barisone admitted to getting a bit disheartened, but Ellegria has pulled him out of his funk.
"She's saving me," Barisone smiled. "It is so easy, the disappointment when they get injured. All your hope is gone and you're like 'Why am I doing this?' I had the two best I've ever had in my life, and the two best got hurt the same week. It was awful. This thing pops up in my life, and she's putting the faith back in me."
American Chris Hickey and Ronaldo Enjoy Top Finish in Prix St. Georges
Chris Hickey (USA) and Ronaldo finished first in the Prix St. Georges on a score of 71.842%, followed by second place finishers Danielle Gallageher-Legrif (CAN) and Argo Conti Tyme with a score of 69.781%. Third place went to Shannon Dueck (CAN), who scored 69.561% aboard Cantaris.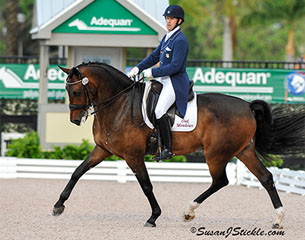 Besides a few bobbles in the canter zig-zag and trot, Hickey was thrilled to see the eight-year-old Danish Warmblood gelding continue to flourish.
"Ronaldo felt great. His tests are getting more and more solid," Hickey said. "He's a very big-moving, elastic horse, so it's hard to keep everything together sometimes. He's very immature for an eight-year-old, but I was very pleased with the test."
Hickey was especially happy that Ronaldo's owner, Cecelia Stewart, was able to attend the show, and even happier that she was able to see Ronaldo do so well. On top of that, the pair bested a field of 36 riders, making the win especially meaningful for Hickey.
"I think it's great for the sport. At the end of the season, for the last CDI to be the biggest, is just wonderful," Hickey commented. "I was really super happy with the results and how my horse went today."
Ronaldo has been schooling all of the grand prix movements, but Hickey described him as far from ready to be competing at that level. He'll continue at the small tour with Ronaldo to gain strength and confidence to develop the young horse's talent. Hickey pointed out that Ronaldo shares a Don Schufro connection on his mother's side with Paragon, Heather Blitz's grand prix mount, and Hickey has noticed similarities between the two.
"He's a big, gangly, young horse still in his body. He's not a short, smaller, really well-muscled horse. He is also [related to] Don Schufro, which is what Paragon is. If you look at him as a young horse, he was always skinny looking. Ronaldo has a long way to get strong and develop at the grand prix before he can get out and do it," Hickey explained.
Pedigree is important to Hickey, but he believes choosing a favorable bloodline is not based on talent alone. Ronaldo has also inherited his sire, Blu Hors Romanov, and dam sire Don Schufro's remarkable temperament.
"For an FEI horse, being a fancy mover as a young horse is not what I want. I want a horse that is going to take the work and develop and get stronger and have the gaits become more expressive and flamboyant as the horse is trained. This horse has a super temperament and a super character and a willingness to work. He goes to work and does his job every day. To me, that's also a huge piece of what the breeding is," Hickey explained. "Even though he's expressive and flamboyant, his hind legs still do the right thing. He piaffes and passages at home unbelievably. You can fire him up and he's amazing, and then you can fire him up and give him a long rein and he walks on the buckle, totally relaxed again," Hickey concluded.
Lagoy-Weltz Captures Intermediaire I
American Olivia LaGoy-Weltz picked up her third first place prize in the Intermediaire I. She rode Rassing's Lonoir, her 10-year-old Danish Warmblood gelding (Lorani x De Noir), to the top of the class with a 73.421%. Second place went to Canadian Chris Von Martels and Zilverstar, who scored a 70.833%. Christopher Hickey, also of the United States, took home the third place prize for a score of 70.789% with Ronaldo.
LaGoy-Weltz was pleased to see "Lono" improve from Friday's Prix St Georges class and stay with her during the test on Saturday morning.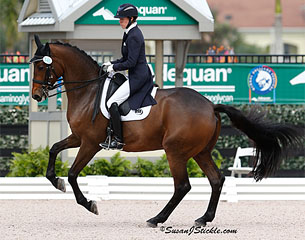 "I guess the I-1 is our lucky charm! He was good today. He was still hot, but we managed the warm-up a little bit differently," LaGoy-Weltz shared. "The last few minutes before we go in is really tricky with him. [It's important to make sure you're] not getting him over the top before you go in, because when we go in, he kicks it up another ten notches all on his own. "Today, after we took the boots off and I did a canter and a halt and a trot off, he wanted to get hotter. I just kind of put him in a passage and let him passage and piaffe and let him do that until [he quieted down]. It made him have to slow down, but still have some place to put the energy. It was great, considering that I don't actually train that [movement] that much!"
LaGoy-Weltz was also grateful for the advice offered to her by many of the world's top dressage professionals that are in attendance in Wellington. The supportive atmosphere has been one of the biggest benefits for LaGoy-Weltz over the last several months. "That was really great, yesterday, when I came out. Everyone was just giving me advice. Try this, put an ear bonnet on, do that. Everyone's really supportive, which is really nice. It takes a village," LaGoy-Weltz remarked.
Of her test on Saturday, she smiled, "It's pretty fun to improve your score by 10%! And the 76% from one judge was really exciting. It's like, 'Alright, we are heading in the right direction,' even if it's just from one judge."
In the short-term, continuing in that direction means qualifying for the Festival of Champions in Gladstone, NJ. LaGoy-Weltz acknowledged that Lono had matured significantly over the course the past few months, but he still has a lot of work to do.
"The fitter he gets and the more correct he gets in his body, the hotter he gets in some ways. Just because he has a much bigger range of motion," LaGoy-Weltz explained. "We have a lot of work to do on collection and straightness and consistency this summer."
Collection will be the biggest focus for LaGoy-Weltz, who joked that Lono "does the hula" in his lead changes. "He likes to do everything big, so teaching him to do everything small [and collected] and be comfortable in that [is a priority]. Now he has to learn to be in the canter where is he is in the trot [mentally and physically]. Where he can put that heat into collection," she described. 
Lono's long-term plans are less well-known, but as he begins to offer high level movements on his own, LaGoy-Weltz has started to lean towards allowing him to continue advancing.
"I'm definitely looking to the upper level people for advice whether to hang out and perfect small tour or go on. I think the consensus is to go on and keep going, because he'll be better at that anyways," LaGoy-Weltz said. "He's offering it. I think that's the most telling point for me. I might as well put him in a position where he's a good boy for doing that, instead of piaffe-ing at G when I'm not supposed to be!" she concluded with a laugh.
By Laura Cardon - Photos © Sue Stickle
Related Links
Scores 2014 CDI Wellington
Lyle and Holzer Win Grand Prix Classes at Final 2014 CDI Wellington