Auction News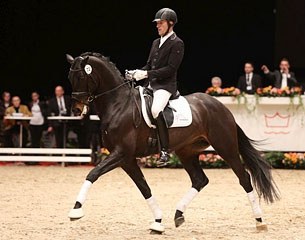 The 5-year old Danish bred mare Dam's Dustaire (by Zack x De Noir) became the price highlight of the 2014 Danish Spring Auction held at the 2014 Danish Warmblood Stallion Licensing in Herning on Saturday afternoon 8 February 2014.
The silver medal winning mare sold for the top knock down price of 67,000 euro to Finnish Grand Prix rider Mikaela Lindh. She acquired the mare in partnership with the Finnish Katja Kuistila, who is based in Great Britain.
"I rely on the concept behind the Danish Warmblood auctions. The x-rays are online and therefore we could make thorough preparations before the auction. At the same time I am very fond of Danish breeding, so the choice to buy this mare was not a hard one. She has a suitable size for me and the gaits to go all the way to Grand Prix. Besides, she has a very good pedigree so she can even become a good broodmare one day," said the buyer.
The most expensive licensed stallion was the 4-year-old premium stallion JJ Zinfandel Grønvang (by Zack x Gribaldi), which sold for approximately 60,000 euro to Swedish horse dealer Johan Ifverson.
The 3-year-old dressage bred Danish warmblood stallion Shogun (by Sunny Boy x Negro) was not licensed, but sold as a dressage prospect for 53,600 euro to the Danish young rider Anna Zibrandtsen.
The average price for a young sport horse at this auction was 24,000 euro. Almost half the collection of horses sold abroad.
Related Links
Stenagers Franzeska, Price Highlight of the 2013 Danish Warmblood Elite Foal Auction
Talented Youngsters in Spring Auction at 2013 Danish Warmblood Stallion Licensing