Veterinary News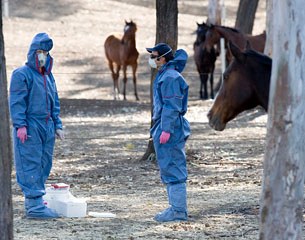 At its October 2013 meeting, the Equestrian Australia (EA) national board moved to establish a working group to begin the process of formalising the organisation's policies for Hendra vaccination and biosecurity.
The policies, which are expected to be ratified for implementation on 1 July 2014, will outline the Hendra vaccination requirements for horses which attend EA and FEI sanctioned events in Australia.
Equestrian Australia CEO Grant Baldock said the working group had several viewpoints to consider.
"In determining the most feasible and effective Hendra vaccination policy for the sport, the working group is considering all positions from a risk perspective, one of which is vaccination of horses that attend higher risk events, through to a self-managed process overseen by clubs and event organisers. What has been agreed upon is the understanding that vaccination provides the best way to mitigate disease outbreaks at EA events."
"Any future vaccination requirements will be accompanied by a significant notice period to allow horse owners to comply with the policy. Event organisers can also be assured that they will be assisted by each state office in implementing the new national HeV policy, as this is quite a significant change for all involved in the sport."
In July 2013 Equestrian NSW (ENSW) implemented a policy requiring vaccination for horses attending certain EA and FEI events. This policy implementation has since been moved back to coincide with a national approach.
Equestrian NSW CEO Bruce Farrar, said that his Board remained committed to Hendra vaccination of all horses at high risk competitions and was critically aware of the serious impacts on riders, horses and event organisers if Hendra or suspected Hendra occurred at an event.
"Equestrian Qld, while continuing to endorse and promote a voluntary policy towards Hendra vaccination, is very pleased with the progress the working party has made to date in examining the elements necessary to ensure we put in place a practical approach to dealing with this issue, that not only meets the needs of the sport and its participants but is also legally compliant, from a Workplace Health and Safety perspective.  EQ also recognises the benefits that can accrue to general biosecurity practices at our various events, as a result of this exercise.
"We would like to reassure members and clubs that the current EQ policy will remain in place until such time that we are comfortable that any policy proposed is one that reflects the advice received as well as being the best fit for the sport as a whole." Rob Ferguson from Equestrian Queensland said.
While the working group continues to deliberate on a national policy, horse owners are encouraged to remain vigilant and informed regarding the Hendra virus by sourcing information online or consulting with their vets regarding vaccination.
"Horse owners who have already vaccinated their horses are strongly encouraged to continue with their booster shots to ensure their horses remain protected from the virus," Mr Baldock said.  
Equestrian Australia Chairman Dr Warwick Vale was pleased to see a collaborative approach being taken between the two Hendra endemic regions of NSW and QLD.
"The combined approach being taken by the working group is a positive step forward in working to provide a comprehensive and uniform solution to this serious disease. Nationwide, our members, event organizers and affiliated clubs are looking for leadership and direction on the issue of Hendra vaccination - we are close to delivering this."
Related Link
Equestrian Australia Welcomes Release of Vaccine for Hendra Virus