KWPN Breeding News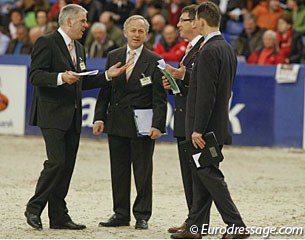 A battle between young versus old dressage talent will take place as a show element of the 2014 KWPN Stallion Licensing set to take place in 's Hertogenbosch, The Netherlands, on 5 - 8 February 2014.
Former KWPN Stallion Licensing Committee members Sjak Laarakkers, Frenk Jespers, Pieter Kersten and Johan Hamminga will ride a quadrille with four members of the Dutch Rabo Talent team in a battle old the old versus the young. A judges panel made up by Dutch Olympic dressage team members will decide who the winning team is.
This battle of the old versus the young will take place on the dressage day, Friday 7 February 2014, at the KWPN Stallion Licensing.
Photo © Dirk Caremans
Related Links
Seventy-Nine Dressage Colts Selected for the 2014 KWPN Stallion Licensing
Five Dressage Colts Pass Late Pre-Selection for 2014 KWPN Stallion Licensing