Dutch Dressage News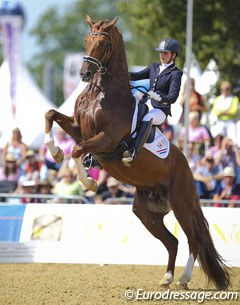 The 6-year old KWPN performance test winner Charmeur has a new rider and will not be competing on the mandatory 2013-2014 KWPN Stallion Competition circuit. Madeleine Witte-Vrees will continue the training of the stallion.
"Charmeur has been withdrawn from the KWPN Stallion Competition by his owner because he is behind on his training schedule due to his dominant, somewhat rude stallion behaviour," the KWPN society issued in a statement. "This came out at the World Championships for Young Dressage Horses in Verden and was partly caused by his busy season in breeding and sport."
The striking chestnut stallion Charmeur (by Florencio x Jazz) is a highly popular breeding stallion in The Netherlands, but after winning the KWPN Performance Testing and 2011 Pavo Cup, his competition track record has not been such smooth sailing.
Charmeur missed out on the 2011-2012 KWPN Stallion Competition due to an injury, then came back to win the Pavo Cup 2012 Pavo Cup and 2012-2013 KWPN Stallion Competition under his steady rider Emmelie Scholtens . However, at the 2013 World Championships for Young Dressage Horses Charmeur was withdrawn from the event after he reared several times in the preliminary test.
Scholtens has now handed over the ride on the striking chestnut to Madeleine Witte-Vrees, who will prepare him for Prix St Georges level. Charmeur is co-owned by Nico Witte, Madeleine's partner and father to Emmelie's boyfriend Jeroen.
Charmeur has not fulfilled the mandatory two seasons of KWPN Stallion Competition, but his owner has confirmed to the KWPN society that the stallion will be doing his final obligatory KWPN Stallion Competition next year.
Photo © Astrid Appels
Source: Horses.nl
Related Links
Charmeur Withdrawn from 2013 World Young Horse Championships
Desperado, Charmeur, Bordeaux Win 2012-2013 KWPN Stallion Competition Finals
Desperado and Charmeur Win 2012 Pavo Cup Finals
Charmeur Not to Compete in 2011-2012 KWPN Stallion Competition
Charmeur Most Popular KWPN Breeding Sire of 2011
Charmeur and Borencio Win 2011 Pavo Cup Finals