2013 Spanish Young Horse Championships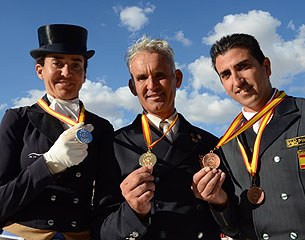 After a tough start to 2013 Spanish Grand Prix rider Juan Antonio Jimenez Cobo has found a silver lining to this hard year when he won the 2013 Spanish Developing Prix St Georges Horse Championships held during the Young Horse Nationals in Segovia, Spain, on 3 - 6 October 2013.
in April 2013 Jimenez lost his rising Grand Prix horse and number one Naomy after a freak accident. The set back was an emotional blow but Juan Antonio focused his attention to the other talent in the barn, which paid off in Segovia. Juan was delighted that his two 9-year old equine stars Elevado and Sunny Boy stood tall well against a full field of top competitors.
"I am happy that so many years of work has given this result. In this competition there were good riders and no less than 32 horses," Jimenez told Eurodressage. "I was curious to see how my horses would stack up in this competition. In the end, both performed really well with Elevado winning his level and Sunny Boy ending up in fourth position. I am particularly happy with this fourth place as I have only had Sunny Boy for a few months."
The 2013 Spanish Developing Prix St Georges Horse Championships ran over three tests, the Young Riders Preliminary test, the Prix St Georges and Young Riders Kur to Music test. Elevado was on very strong form, scoring 71.250%, 70,395% and 75.958 to win the gold. The silver went to Beatriz Ferrer-Salat on Du Pre (by Don Frederico), the bronze was for Antonio Jose Diaz Porras on Bojangles (by Sorento). Jimenez and Sunny Boy followed on Bojangles' heels to finish fourth.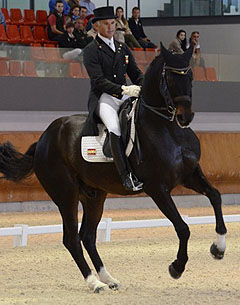 With both horses in super shape Juan was extremely pleased with the horses' willingness to work and sharpness to the aids at the event, praising their great character and show spirit.
"My Hanoverian Elevado has a good temperament and I feel that he is an elegant horse that is nice to look at in the competitions with his elastic movements," he explained. "My Oldenburg Sunny Boy is sweeter, with a nice temperament, while also being energetic, kind and generous."
Winning almost all his competitions so far, Elevado is producing very consistent results in the arena, while Sunny Boy won the CDI Compiegne in June and has now been moved up into the second spot after the sudden loss of Naomy. Working both horses with the view to get to Grand Prix level, Juan trains at his own centre in Madrid and has worked hard this year to keep his focus on a strong future in the sport.
"The loss of Naomy was a sad and unfortunate accident in the middle of a competition and it was a great loss for me, not just because she was my most advanced horse at that time, but also because of our fantastic relationship," he confessed. "We trusted each other completely and I liked her personality very much. I took her on when she was 5-years old and we had worked together for some time."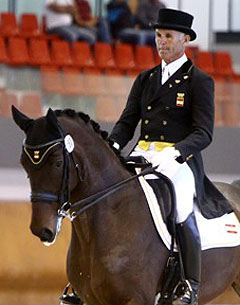 Taking him quite a while to come to terms with the fact that the mare was no longer around, Juan dealt with the loss by turning his attention to Vietkong and Raio amongst others. They helped him to get over it. While Juan pays equal attention to all his horses, his hopes are very high for the 9-year old Oldenburg Sunny Boy (by Stedinger out of Olivia).
"I bought Sunny Boy seven months ago and he is a very special horse and we already get along very well," he said. "In spite of the fact that I have other very good horses in my stable, I expect that Sunny Boy will be my most successful horse in the future."
Juan is also very excited about Vietkong, a 7-year old Lusitano with great potential. "He has a great passage, piaffe and canter and I think he will be one of my most important horses. I will most likely bring him to the Salon del Caballo in Paris."
Also hoping to go to Germany to start competing with Elevado at Grand Prix level, Juan will use the upcoming CDI winter shows in Barcelona in the beginning of 2014 as important barometer for future plans.  "After the next few competitions I will set my rest agenda for the rest of the year."
by Sarah Warne for Eurodressage
Photos © Top Iberian - Celeste Ribó.
Related Links
Juan Antonio Jimenez Loses Naomy
Juan Antonio Jimenez Returns to the Big Time with a Foursome of FEI Stars