British Dressage News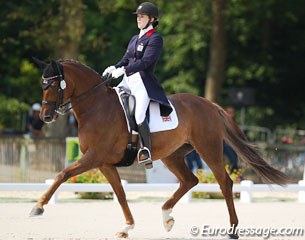 Following recent under-21s viewing days in Great Britain the selectors of British Dressage have chosen the following riders to be members of the 2013-2014 squads. British selectors have divided the squads into several groups, distinguishing pony riders between squad training and national training. The British junior and young riders are each divided into no less than three categories: prime, progress and potential.
The squads are under constant review and riders can be moved up and down according to their current situation and the moves are to help the riders in their development. Selectors reserve the right to amend these lists as appropriate.
The British FEI pony riders had a viewing day held at Vale View equestrian centre in Leicestershire on Saturday 7 September 2013. The junior and young riders had their viewing day on Saturday 12 October 2013.
Photo © Astrid Appels
Pony Riders - Squad Training
Rebecca Bell and Valido's Sunshine
Rebecca Bell and Valido's Starlight
Isobel Berrington and DHI Langar
Angus Corrie-Deane and Grayswood Orlando
Alex Hellings and Der Kleine Lord
Clare Hole and Bernwode Brokat
Bethany Rose Horobin and Gigolo
Rose Hugh-Smith and Holsteins Derwisch
Lara Kuropatwa and Le Chiffre
Phoebe Peters and SL Lucci
Reserve: Alex Rowe and Ferrari
Pony Riders - National Training
Imogen Ablett and Dance of Joy
Emily Atkins and Braeglan Symphony
Emily Attwood and Benthli
Emma Bond and Dalestown Rose
Ollie Booth and DHI Good Luck
Charlie Grieve and Monticello
Lara Kuropatwa and Mister Snowman
Olivia Moriano and Master Alexander
Emma Neil and Sheepcote Romeo
Vicky Povey and Machno Rembrandt
Tia Quinn and Bookhamlodge Fantasia
India Sheridan and Top Star
Sophie Taylor and Carlsson
Harriet Walker-Smith and Ronaldo VI
Pony Riders - Reserves
Megan Roberts and Machno Countryman
Charlotte McDowall and Felinmoor Buddy
India Sheridan and DHI Smart Move
Georgia Twaddell and Lightning Lumiere
Merlyn Latimer-Smith and Reve D'Or
Junior Riders - Prime
Charlotte Fry and Remming
Jessica Gale and Umbro S
Maisie Scruton and Hot Chocolate
Chloe Vell and Kaja Di Valentina
Erin Williams and Fleurie
Junior Riders - Progress
Charlotte Dicker and Catherston Springsteen
Alice Edmonds and Broadstone Jackanory
Ruth Hole and Winnetou GEP
Bethany Shipley and Wanour S
Jessica Wade and Lord Nelson IV
Harriette Williams and Diamondez
Junior Riders - Potential
Izzy Chaplin and Taijdora
Ella Cotterill and Mibikus
Emily Hedger and O'Donner
Lily Latimer Smith and Classic Vazire
Lauren Ruffle and Royal Lady
Young Riders - Prime
Emma Corbett and Furst Diamantino
Eilidh Grant and Comanche Crumble
Pippa Hutton and Belmondo/Duela
Jessica Knapton and Di Spirito
Olivia Oakeley and Donna Summer
Samantha Thurman-Baker and Douglas IV
Ryan Todd and Charlex Eskebjerg
Olivia Towers and Flyaway Wish
Young Riders - Progress
Pippa Corbett and Saphier van het Overwater
Gaby Lucas and Laurentius II
Young Riders - Potential
Deborah Christie and Donatello D
Elspeth Day and Me Delilah
Ella Garfoot and Walansky
Shannon Rule and Disco Diamond
Jade Struthers and Far Afield
Tamsin Vaughan and Casse-Cou
Related Links
British Junior/Young Rider Squads for 2013 Announced
British Pony, Junior and Young Rider Viewing Days for 2013 Squad Selection
Strong Young Riders Base in 2012-2013 BEF Excel Talent Programme
British Pony, Junior, Young Riders Squads for 2012 Announced