What's Happening in the Dressage World?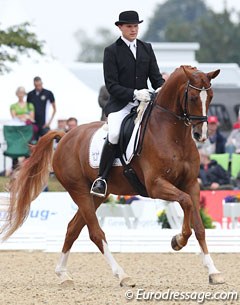 German pony rider Paulina Holzknecht might have lost her spot on the pony dressage A-team after the death of Carrie WE, but she has not quit. Holzknecht recently  won the 6-year old dressage pony Bundeschampionate qualifier
and the ticket to Warendorf with Carlos WE (by Constantion x Donnerhall) as well as bronze medal in the regional "Youngster Championships Jumping".
Matthias Bouten has left Isabell Werth's yard in Rheinberg, Germany, where he was Isabell's number one asistent trainer since Hayley Beresford's departure. Only ten months after Beatrice Buchwald became an additional rider on Werth's team, Bouten decided to leave and follow Spanish rider Vincent Arroyo to become riders at a brand new facility that is being built in Nottuln, Germany. At the moment the pair is staying at Gut Hohenkamp in Dorsten.
Belgian Grand Prix rider Simon Missiaen was in a car accident on Friday night 19 July 2013. Fortunately the rider did not get injured but his car was a total loss. "I survived a really big car crash," Missiaen wrote. "Car is total loss! Thanx to the friendly man who crashed in to me at more then 100km/h." Missiaen underwent a quick check up and is uninjured despite getting a big blow to his back and neck.
Horses.nl reported that Dutch former young rider Emma Peper has retired her 17-year old small tour horse Westenwind. Peper's Dutch warmblood gelding (by Werner x Mamori xx) suffered from a recurring injury and has been retired to the field.
St. Georg wrote that Hans Heinrich Meyer zu Strohen and his wife Kathrin have left the Hoya Riding School, where Hans-Heinrich has been head trainer for the past 27 years. Disagreements between the board of the riding school and Kathrin Meyer zu Strohen, who trained horses there, led to the ending of the partnership between the couple and the school. The Meyer zu Strohens moved to a private stable in the Verden area in June.
U.S. Grand Prix rider Shawna Harding has posted her top horse Come On III for sale on Eurodressage citing personal health reasons. In an interview with the Chronicle of the Horse, Harding disclosed she's been battling chronic Lyme disease. Harding went to seven doctors before finally learning last fall that she'd been suffering from exhaustion and chronic fatigue because of adrenal failure from Lyme, along with complications from other infections.  She was also diagnosed with malaria, which she believes she contracted while visiting a friend in Italy.
Danish Grand Prix rider Joachim Thomsen had to deal with a serious blow when he lost his top horse Akeem Foldager to Andreas Helgstrand. Fortunately, the sympathetic rider has now received the ride on a new rising GP horse, Canel V, which has been trained to that level by Sidsel Johansen. Canel V is an 11-year old Danish warmblood gelding by Come Back II x Lobster. The bay gelding arrived in Joachim's barn on 1 August.
After a successful international Grand Prix career under Edward Gal, Emmy de Jeu's Dutch warmblood mare Sisther de Jeu (by Gribaldi x Amor)  has a new full time career: that of brood mare. Six embryos have already been successfully flushed out of her this season and five of them are viable at this moment. Three embryos are by Jazz, two by Charmeur and one by Zonik. 
British Grand Prix rider Peter Storr passed his international 3-star judges' exam at the 2013 CDI Kapellen in Belgium on 9 - 11 August 2013. German Ulrike Nivelle passed her 4* exam at the same venue. Congratulations!