Oldenburg Breeding News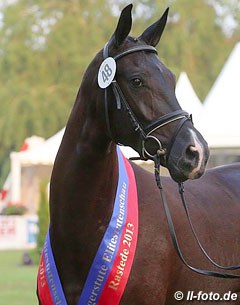 The Belgian owned 3-year old Oldenburg mare Calamity Jane has been proclaimed champion of the 2013 Oldenburg Elite Mare Show in Rastede on 26 - 28 July 2013. The dark bay San Amour x Rohdiamant x Grunstein filly is owned by Patrick D'Eer and bred by Engelbert Boeske.
Calamity Jane descends from the famous "Centrum" mare line, which produced the Oldenburg licensing champion Follow Me (by Furstenball) and premium stallion Donnerball (by Donnerhall x Alabaster).
Bernd Schhlüter's dark bay filly Biscaya (by Bordeaux x Quattro B x Grandeur) was named reserve champion of the show. She is bred by Bernhard Arkenberg and also qualified to represent Oldenburg at the 2013 Bundeschampionate in Warendorf. Both Calamity Jane and Biscaya will be offered for sale at the Oldenburg Autumn Elite Auction in October.
Fifteen mares were selected for the "Brilliant Ring" at the mare show, the final ring in which the winners of top placed mares are chosen. San Amour (by Sandro Hit x Plaisir d'Amour) had three offspring in the Brilliant Ring, Fidertanz and Bordeaux both had two. 

Results - 2013 Oldenburg Elite Mare Show - Brilliant Ring
1. Calamity Jane (by San Amour I - Rohdiamant) - Presented by Patrick D'eer  - Bred by Engelbert Boeske
2. Biscaya (by Bordeaux - Quattro B) - Presented by Schlüter, Bernd  - Bred by Arkenberg, Bernhard
3. Bella Laguna (by Bordeaux - Lortino) - Presented by Bernd Gebhardt  - Bred by Tanja Wickenkamp,
4. Fabrice' s Zick Zack (by Zack - Freiherr) - Presented and bred by Hans & Britta Scherbring
5. Ma Stella (by Sir Donnerhall I - Donnerhall) - Presented and bred by Anne-Marie Hachmoeller
6. Fortuna (by Dimaggio - Karon/T.) - Presented and bred by Christoph Beimforde
7. Prada JK (by Fidertanz - Krack C) - Presented and bred by Johann Kiep
8. NN (by Fidertanz - Sandro Hit) - Presented by Georg Toenjes - Bred by August Toenjes
9. Very Fine Lady (by Fürst Fugger - Don Larino) - Presented by Michael Mehrtens  - Bred by Jannes Boekhoff
10. Granjane (by Fürst Romancier - Don Gregory) - Presented and bred by Stall Troff
11. Wanira (by San Amour I - De Niro) - Presented by Sharon Downes, USA  - Bred by Georg Bischoff
12. Wild Rose (by Sarkozy - Fürst Heinrich) - Presented and bred by Wilhelm Hoffrogge
13. Aliflora (by Florencio I - Licotus) - Presented and bred by Lars Wenke
14. Weihcine (by Fürst Heinrich - Don Schufro) - Presented and bred by Christine Arns-Krogmann
15. Leidenschaft L (by San Amour I - Laudabilis) - Presented and bred by Elisabeth Limbecker
Photos © LL-foto.de
Related Links
Fasine, Champion of the 2012 Oldenburg Elite Mare Show in Rastede
Fire and Ice Proclaimed 2011 Oldenburg Elite Mare Champion in Rastede
Fifty Fifty, Champion of the 2010 Oldenburg Elite Mare Show in Rastede
Carlotta Wins 2009 Oldenburg Elite Mare Show in Rastede
Weihegold Wins 2008 Oldenburg Elite Mare Show in Rastede
Rebelle Wins 2007 Oldenburg Elite Mare Show in Rastede 
Silberaster Wins 2006 Oldenburg Elite Mare Show in Rastede 
Loxana, Dancing Diamond at 2005 Oldenburg Mare Show in Rastede 
Love Story V, Champion of the 2004 Oldenburg Elite Mare Show in Rastede 
Fabina, Rastede Oldenburg Champion 2003 
1999 Oldenburger Champion Mare Lady Madonna sold to the USA 
Donna Doria, the 2000 Oldenburg Champion Mare at Radstede