2013 CDI Compiegne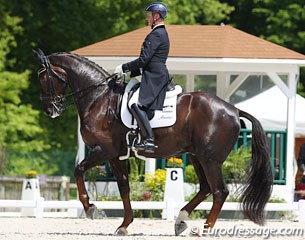 British Carl Hester and British born Irish rider Roland Tong swept the Grand Prix classes at the 2013 CDI Compiegne on 30 May - 2 June 2013. Whereas Hester was a league of his own scoring far higher than his competition, Tong had an on-form Pierre Subileau breathing down his neck for Kur victory.
Carl Hester and Dances with Wolves, Aram Gregory's impressive, high-energy son of Donnerschwee, were invincible in the Grand Prix and Special. In only the horse's first season of grand prix, "Golly" undoubtedly making an impression and developing into an exciting top-flight horse in the hands of his London 2012 team gold-medalist rider.
Carl and Dances with Wolves were unanimous winners of Friday's Grand Prix posting 73.53%, ahead of Germany's Stephan Köberle and Darjeeling in second with 71%. Carl showed beautiful piaffe with the liver chestnut but struggled in the one-tempi changes. Also the passage could have been more engaged from behind even though it was regular and balanced. Brit Gareth Hughes and Jane Brewin's Danish bred mare DV Stenkjers Nadonna were breathing down the necks of the leaders in third with 70.59%.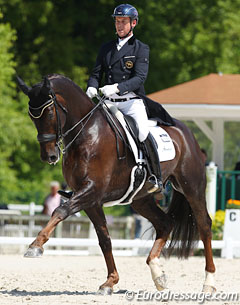 In Sunday's Grand Prix Special, Carl and Golly clocked up 75.91% gaining a 6% advantage over second-placed Henri Ruoste (FIN) riding Dr. Jorge de la Rocha's Jojo Z.
Ireland's Roland Tong and Pompidou won the Grand Prix Kür. This was Tong's first international GP victory on a score of 71.27%. Roland commented that "the atmosphere was electric in the show grounds today and Pompidou rose to the occasion performing a great test." Roland has already qualified for the European Championships in Denmark and joins an elite band of Irish Riders who have won an international dressage class.
Charlotte Dujardin and Uthopia, who were scheduled to ride in Compiegne in order to obtain a second mandatory qualification score for British Team selection for the 2013 European Championships, were forced to withdraw from the competition as a result of two fly bites on the saddle area of the stallion's back. "Sadly the vet has advised we do not try and put a saddle on Uti due to enormous fly bites that have become septic - a big disappointment. New plan of action - Uti and Charlotte will go to Rotterdam," said Carl.
Photos © Astrid Appels - No Reproduction Allowed
Eurodressage photographer Astrid Appels took photos of (almost) all combinations competing at the CDI Compiegne. Contact us if you are interested in prints of your photos!
Related Links
Scores 2013 CDI Compiegne
Scruton and Averkorn Relish Victories in Junior Division at 2013 CDI Compiegne