American Dressage News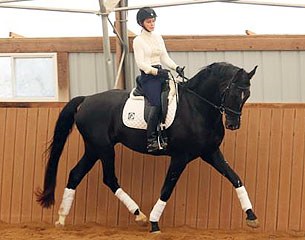 The final U.S. Young Horse Dressage Training Session in spring 2013 wrapped up Sunday 28 April 2013 at Oak Hill Farm in Lockport, Illinois. The two-day training session featured 11 horses between the ages of four and six and was once again led by USEF Young Horse Coach Scott Hassler.
"We had a terrific training session at Oak Hill Farm in Illinois. There was once again a nice balance of U.S.-bred and imported horses," said Hassler. "It was great to see riders I have worked with in the past with new horses as well as meeting some new professionals. Overall there was nice quality riding and I have a good feeling I will see some of these combinations at the U.S. Young Horse Dressage National Championships in August. Participation from the auditors was also very strong which reaffirmed to me that this central area of our country is very dedicated to the development of young dressage horses."
The open training session was attended by breeders, horse owners and local young horse enthusiasts. In addition to two days of mounted lessons, participants enjoyed discussions with Hassler.
Participants in this training session included:
Megan McIsaac on the 4-yo Elbricht (by Tietse x Folkert) - Owner: Susan and Rick Neipert
Jenna Strauss on the 5-yo I'm Full of Stuff (by Pascal De Pau) - Owner: Jenna Strauss
Martin Kuhn on the 4-yo Endeavor (by Armani x Gribaldi)  - Owner: John Gerlt, Jennifer Quirk, and Allison Gerlt
Jessica Starck on the 6-yo Lisandro (by Lintas x Lacoste) - Owner: Mary Lou Starck
Linda Schultz on the 4-yo Dauntless B (by Dacaprio x Linaro) - Owner: Linda Schultz
Amanda Johnson on the 5-yp Dalakarlian (by Coconut Grove x Lester) - Owner: Kaye-Eileen Willard and Bethany Willard Seeboth
Amy Lewis on the 5-yo Sir Steinerman (by Stedinger x Don Primero) - Owner: Amy Lewis
Patricia Becker on the 6-yo Freedom (by Feuri x Walk On Top) - Owner: Anne Ramsay
Ken Borden on the 4-yo iamo's Royal Reid (by Tiamo Trocadero x Davignon) - Owner: Ken Borden
Ken Borden on the 5-yo Raybol (by Raymeister x Parabol) - Owner: Ken Borden
Kara Kush on the 5-yo Davanna (by Rousseau x Welt Hit II) - Owner: Kara Kush
"The camaraderie, passion, and learning that went on there, in one short weekend, was inspirational," said participant Jessica Starck. "The passion Scott has for what he does, the love he has for the horse, and the knowledgeable creative approach he has to teaching is extremely prevalent. We all agreed we are proud to have him represent us."
Photo © Phelpsphotos.com
Related Links
U.S. Young Horse Training Session at Shannondale Farm Wraps Up after Two Informative Days
Hassler and Steinberg Ready for 2013 USEF Young Horse and Youth Training and Observation Sessions
USEF Offers Tour of 2013 World Young Dressage Horse Championships in Verden