2013 CDI Wellington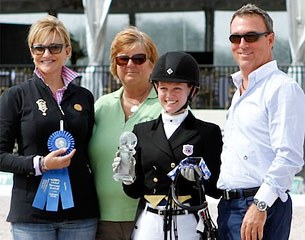 The Florida Youth Championships, presented by Dressage4kids at the 2013 CDI Wellington on 15 - 17 March 2013, were a great success with winners in four divisions. The program is to help young dressage riders gain experience and education for the high performance levels.
The winner of the Brentina Cup class was Julie McKean of Camden, ME. She and Stelina had a total of 64.617. McKean has been riding Stelina for a year and a half, and they have had success in the Brentina Cup at the national championships, placing sixth. "I'm really excited because our partnership has come a long way. We're riding with a new level of consistency," she said.
McKean looked forward to competing in the classes at the AGDF. "I was really motivated to be in this particular CDI because I hadn't ridden in front of a full panel of judges since Devon. I need to get my feet back in international waters! It was a confidence builder for me because we went in and put in a really steady test, pretty clean. We have to work on maintaining uphill balance and I feel that we did that."
Fifteen-year-old Bebe Davis of Bedminster, NJ, captured two top prizes. She and Poldy 10 won the FEI Pony Division with a total of 67.763, while Rotano was tops in the FEI Junior Division on a total of 66.009. Davis and Poldy 10, who is 17 years old, are in their second season together in Florida. They won the national championship title in 2012 and were champions at Devon. "He's my favorite pony; I love him so much. I brought him last minute and I'm really glad I did. I was nailing everything and it's all coming along so well. My hard work is paying off. He's just the best."
This is Davis' first season in the junior division and showing with Rotano. "I'm just starting to get to know him and how to warm him up," she said.
Davis was excited to participate in the Championships. "In dressage, the young riders is not as big of a program. To see people care about what we do and appreciate it for all the hard work we put in, it's really great. This weekend was about learning for me," she related. "I'm learning to keep riding every single show like it's no big deal. If you show your horse to the best of their ability and ride to the best of your ability, it's really going to pay off. You end up being happy with yourself because you've done the best that you can do, regardless of the score."
Alexa Derr, who is 18 and from Reinholds, PA, won the Young Riders division with Just Livingston with a total of 63.991. They have only been together since November. Derr noted, "My goal was to have a clean test and to really work on some of the areas that I have been having difficulty with, like canter pirouettes and lateral work. It's his strong point, but not always mine. I was really wanting to have a nice, polished, expressive test."
Derr is a participant in the Winter Intensive Training Program with Lendon Gray, who heads the Dressage4kids program. What Derr enjoyed most about the program and today's championship was the support from all of her fellow competitors. "For me, that was really such a cool feeling to hav all the support and be able to support everybody else. I felt like everyone was there for each other," she said. "It didn't feel like a championship; it felt like everybody was out there to do their personal best and have fun with it as well."
Photos © Sue Stickle
Related Links
Scores 2013 CDI Wellington
Roffman and Her Highness O Are Regal in inter I Kur at 2013 CDI Wellington
Dutta and Herslow Victorious at 2013 CDI Wellington
Konyot and Calecto V's Elegant Freestyle Takes Top Prize at 2013 CDI Wellington
Tina Konyot and Calecto V Win 2013 CDI Wellington Grand Prix