2013 CDI West Palm Beach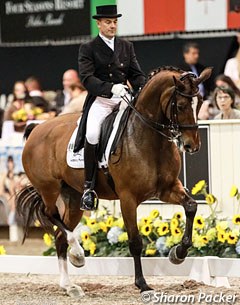 American based former Danish Olympic team rider Lars Petersen is leaving behind his Danish roots and signing himself up for team USA! Having lived in the U.S. for the past 11 years, Petersen has established a business in Florida and currently has a new Grand Prix horse for the international show ring.
"I love living here. I have made the US my home," the 47-year old Lars told Eurodressage.  "I still love Denmark and will always be Danish, but since I live in the US and my business is here, it ends up being about geography."
With scores above 70%, Lars and the Danish mare Mariett (by Come Back II x Sidney) took out both the Grand Prix and the Grand Prix Special at the 2013 CDI West Palm Beach at the Jim Brandon Equestrian Centre on 9 - 11 February 2013. He was happy with the result and with his partner's perfomance. "I got lucky in that no one was better than me at that show," Petersen admitted. "I am also very happy that the job is becoming easier for Mariett and that she improves at every show. There is nothing Mariett can not do for an 8. As long as I have her through and listening, she can do it all!"
Aside from the support of Mariett's owner Marcia Pepper, who pays for Mariett's shows, Lars and his life partner Melissa Taylor work for themselves. Melissa says they must factor this into their decision process. "We run our own business and when Lars is away in Europe the majority of our business stops making income here in the US," said Melissa.  "I ride and compete alongside Lars and I have clients of my own, but Lars has the majority client base."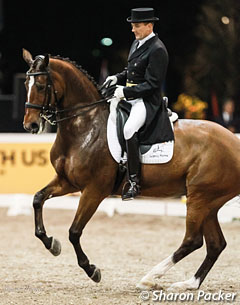 Purchased for Marcia to ride small tour while Lars developed the horse to Grand Prix, Mariett has been through some tough challenges, but has finally come out on top! "Marcia took some time off from riding when her daughter was finishing High School and going off to college. During that time, one evening while laying down sleeping, Mariett somehow got her right hind shoe locked into her left front shoe," Taylor reminsced. "While Mariett struggled to get up she tore off 1/2 of the left front hoof from the coronary band down. At that point the vets honestly never thought Mariett would be sound or grow her hoof out. It took 2 full years before the mare could go back to work and at that point Marcia decided to have me finish her to Grand Prix and see what was next .  And we haven't looked back!"
Led into horses by his father, Lars picked dressage after cancelling out his talent in the other disciplines. The experienced competitor is still learning the art of dressage. "My dad had the biggest influence on my riding, as he also rode," Petersen stated. "I initially tried eventing and jumping, but I was just not good at it so I stayed with dressage, which I am still learning to be good at!"
Moving away from having the widely publicized ride on the Blue Hors' owned Grand Prix horse Gredstedgards Casmir (by Continue) last year, Lars stated that he and the owners merely chose a different direction in order to better suit the horse. "I did not lose the ride on Casmir. Esben Moller and I made other plans that were in the horse's best interest," he explained.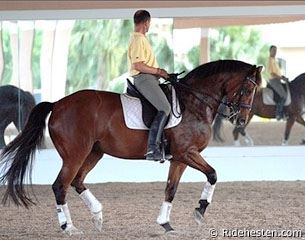 With 54 horses on his equestrian property in Wellington, Florida, Petersen says that for him the 2013 season is in full swing and he is looking forward to getting started on some upcoming talent. "We have several younger horses in work and my favorite thing about our sport is developing a horse from the beginning, regardless of where it takes me," said the Dane.
Ready to kick-start his future in the US Lars doesn't feel his U.S citizenship will make it easier for him to qualify for a spot on the national team. He knows that traveling to the qualifiers and the National Championships will be a lot easier! "Here in the US I can compete through the Florida season and hopefully get the scores I need to be invited to the National Championships," he said. "
The difference in being a citizen here or having to qualify in Europe, is not only the expense of flying the horse back to Europe, but also the loss of income coming in while I'm away. If I remain permanently in the US, I can compete 20 minutes from our farm, while still running the business at full steam!"
by Sarah Warne for Eurodressage
Photos © Sharon Packer -Ridehesten
Related Links
Scores: 2013 CDI West Palm Beach
Lars Petersen and Casmir Getting Ready for 2012 Show Season
Edward Gal and Lars Petersen to Ride Blue Hors Grand Prix Horses
Lars Petersen Withdraws as 2008 Danish Olympic Team Candidate