Australian Dressage News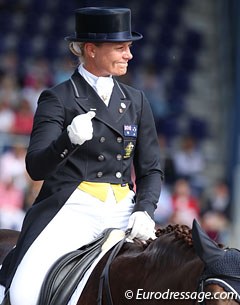 Following the completion of the London Olympic Games, the Australian equestrian federation (EA) as part of the normal assessment, has been conducting a review of the High Performance Program.
The outcomes from the review are designed to further enhance and improve EA's High Performance strategies in relation to sport development, coaching, veterinary services and team selection.
Equestrian Australia had to face no less severe complaints about its Olympic selection procedure, including the highly publicized lawsuit of dressage rider Hayley Beresford who took her complaint to CAS. At the 2012 Olympics Australia failed to win any medals despite its many successful show jumping and eventing riders.
Brett Mace, high performance manager of Australia's Olympic equestrian teams, has resigned after a review by the government sports agency of the Olympic procedures and results for all three disciplines.
Surprisingly, the Australian FN never issued a release on the resignation begin January 2013. "I can confirm that Brett has resigned from his position as High Performance Manager although there is no press release regarding his resignation to be issued," EA press officer Michelle Cook told Eurodressage.
EA Chairman, Paul Biancardi, said the Board is close to finalising the High Performance review process and is looking forward to developing the future plans.
"The EA Board is preparing to finalise the review of the High Performance program which looks broadly across the entire program and across all Olympic disciplines.
"In October we invited the Australian Sports Commission to facilitate the first stage of the review which looked at the planning and challenges ahead for EA's High Performance program ahead of the World Equestrian Games and Olympic Games cycle.  We expect to receive those findings in the next coming weeks.
"As in the case following an Olympic Games, we are now in the process of calling for expressions of interest for key High Performance positions that are automatically vacated from the previous Games.  These positions will be advertised over the coming weeks on the EA website and include positions for selectors and team vets," he said.
Related Links
Hayley Beresford Loses Appeal with CAS on Australian Olympic Selection
Hayley Beresford Issues Public Statement
Statement by Australian NF Chair Paul Cargill on Beresford Case
Beresford Lodges Appeal with CAS on Olympic Team Selection
Rachael Sanna and Jaybee Alabaster Withdraw from 2012 Olympic Contention