What's Happening in the Dressage World?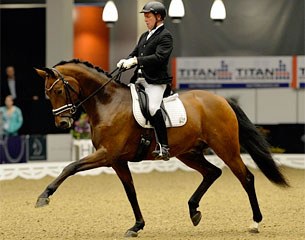 Ridehesten.com reported that the 6-year old Danish young horse champion Samba King has been sold to Matthias Rath's girlfriend Franziska Eisenmann. Bred by R. Hagenaars  and previously owned by Helle Pia Koch, Samba King is by Sandro King x Lancet
and was recently competed by Jim Rasmussen. The bay gelding won the Danish Young Horse Championship in Odense one week ago but has now moved to Schafhof in Kronberg, Germany.
The 23-year old former British team Young rider Charlie Hutton got engaged to his long-time girlfriend, Irish dressage rider Abigail Lyle mid October 2012. Lyle and Hutton both work at the Talland School of Equitation in Gloucestershire. In 2010 Lyle went public about overcoming domestic violence and abuse after her boyfriend at the time, show jumper Jonathan Cresswell, was sentenced six months in prison pleading guilty to abuse. The brave Lyle agreed to share her disturbing story to encourage other women living in violent relationships to break the cycle, seek help and to see their perpetrator brought to justice.
After two months being the number one on the FEI World Dressage Riders Ranking, British Olympic Champion Charlotte Dujardin has dropped to a second place, while Adelinde Cornelissen is back on the number one spot. "Oh well I enjoyed my 2 months at the top," said Dujardin. Charlotte extended her congratulations to Adelinde for taking the FEI No 1 spot but added, "I will be back!"
Ulla Salzgeber has left Gestut Peterhof and left Donna Unique and Silvano without a top rider. Maybe Peterhof's owner Arlette Jasper-Kohl should consider Dujardin as potential new rider? The talented young rider is now an assistent trainer at Carl Hester's yard and has not yet built her own independent business like most elite riders have. If the candidate has to be German, than Dorothee Schneider could be a good option as she doesn't live too far from Peterhof and has Olympic experience.. But I'm pretty sure there are plenty of top candidates eager to get astride some of the world class horses Peterhof owns.
Australian Grand Prix rider Nadia Coghlan has decided to retire her long-time GP partner, the 19-year old Australian bred Northern Campion (by Northern Congress out of Amour Miss). The combination competed at their last show together at the 2012 Australian Dressage Championships in Sydney the final weekend of October 2012.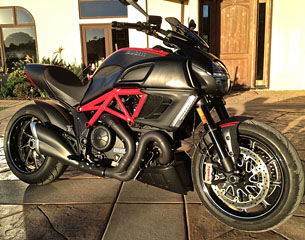 U.S. Grand Prix Champion Steffen Peters has a new ride!! But it's not one on four legs, but instead on two wheels. Peters got a brand new Ducati for his birthday. Drive safely!
Former British Grand Prix team rider Nicola McGivern shopped at the 2012 Hanoverian Stallion Licensing and acquired the licensed chestnut Dancier x His Highness for 46,000 euro together with her new Norwegian clients Mistrols Equestrian. Congrats!
Did you recognize the Voice of the English language videos of the 2012 PSI Auction collection ? It was British European team gold medalist Emile Faurie! "I was thrilled to be asked to voice over the videos of the new collection of beautiful horses for the upcoming P.S.I. Auction. I thoroughly enjoyed seeing them all," said Faurie. You can check out the amazing collection of future dressage superstars on the PSI website
1999 Oldenburg Licensing champion Dormello (by Dream of Heidelberg x Freiherr x Louvre) has relocated to a new breeding station where the liver chestnut will be standing at stud for 2013.  Dormello will be based at Sven and Lothar Völz's station in Wöhrden, Germany.