2012 CDI Leudelange
Belgian Lavinia Arl and her Belgian Riding Pony gelding Equestricons Epiascer aced the FEI pony classes held mid-week at th 2012 CDI Leudelange in Luxembourg on 12 - 13 September 2012. Though temperatures had dropped to a chilly 13 ° after a hot summer weekend several days before, spirits were high and a huge pack of ponies gathered at the Ecuries des Pres for the event.
The CDI Leudelange takes place at a lovely equestrian facilities in the rolling hills of Luxembourg. With a neat, clear show ring down hill and a good warm up arena uphill, the riders had plenty of space to prepare their ponies and horses. The chilly and windy weather did cause for several ponies to be on edge.
Arl and Epiascer (by Ten Ankers Jerolianca x Large River Cleopas) were on form and in control. The pair won the team championship test with 74.274% and the kur to music with 75.708%. Riders had to choose beforehand whether they wanted to ride the individual test or the kur, so it split up the field into two groups for the second class. Arl rode quite accurately and is able to put in very consistent rides but her pony could have sparkled a bit more in the team test.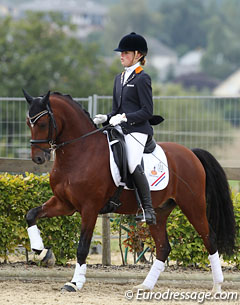 Dutch Febe van Zwambagt and her brand new 2012 Dutch FEI Pony Champion Dr Watson (by Don't Worry x Barkway Aramis) were second in the team test with 71.111% as well as in the kur with 71.125%. The bay pony stallion has three good basic gaits and lots of promise for the future, but could have been more through and lighter in the contact.
Danish rider Jeanette Haugaard and the 15-year old German riding pony Boss Bunter R (by Boss x Night Star) were third in the team test with 70.983% and won the individual tst with 69.309%. The dark bay gelding excelled with his cadenced rhythm in trot, but the rider visibly had to spur her pony forwards throughout the test.
Photos © Astrid Appels - NO REPRODUCTION ALLOWED (NO FACEBOOK !!)
Show Photography - Eurodressage's Astrid Appels was on the scene and took photos of ALL pony riders competing at the CDI Leudelange. if you are interested in ordering photos, send us an email with the name of the rider/horse you are interested in. Serious request only please.
Related Link
Scores 2012 CDI Leudelange