German Dressage News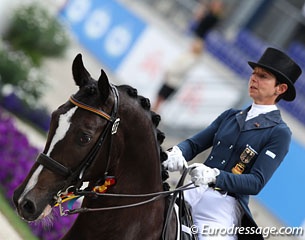 Monica Theodorescu has been appointed new German dressage team trainer by the German Olympic Equestrian Committee (DOKR). She will take up her role as of 1 October 2012 as the first ever female German team coach.
The 49-year old Theodorescu is replacing Jonny Hilberath, who stepped in as team trainer after the sudden passing of Holger Schmezer in April 2012. Right before the 2012 Olympic Games Hilberath acknowledged that he would prefer to commit more time to his own equestrian centre as a trainer and rider and he would no longer be up for the head trainer position.
While Hilberath has resigned at team trainer, he'll continue to be discipline trainer for the DOKR alongside Jurgen Koschel, who is the DOKR Under 25 team trainer. Both will support Theodorescu in her role as chief trainer.
"I'm very much looking forward to this new challenge and I'm aware of the responsibilities," Theodorescu commented.  Monica is saying goodbye to her own international show career. "Both jobs cannot be merged," she said. Theodorescu will continue to train young horses at her home, Gestut Lindenhof, but she will have an assistant trainer taking care of the training of the clients' horses.
For more than 35 years Monica Theodorescu has been one of Germany's most successful dressage riders. Daughter to the legendary trainer George Theodorescu, Monica won the 1993 and 1994 World Cup Finals, won three Olympic team medals (1988, 1992, 1996) and won team gold and individual bronze at the 1990 World Equestrian Games.
Dennis Peiler, manager of the DOKR, commented that "we now have a great athlete as team trainer, who can look back on a long international career. She is familiar with the structures and challenges of the dressage sport. We are very happy that together with Jonny Hilberath and Jurgen Koschel we have outstanding trainers for the discipline."
Photo © Astrid Appels - Silke Rottermann
Related Links
Monica Theodorescu: Backed by History, Facing the Present on Home Bred Horses
Ganimedes, The Magnificence of Movement
Georg Theodorescu Passed Away
Inge Theodorescu Passed Away