2012 Swedish Dressage Championships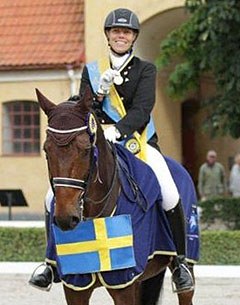 Eva Ulf and her Hanoverian bred Caruso won the national title at the 2012 Swedish Grand Prix Championships held in Flyinge, Sweden on 1 - 2 September 2012. Ulf proved to be the most consistent rider over two rounds in the absence of Swedish Olympians Tinne Vilhelmson, Patrik Kittel, Minna Telde and team reserve Rose Mathisen, who all four chose not to compete at the national championships.
Eva Ulf and Caruso (by Carbid x Wittelsbach) never won any of the two rounds, but twice placed in the top three. Her scores averaged out to be the highest of all competing riders, which earned her the 2012 Swedish Grand Prix champion's title. Ulf scores 67.979% in the Grand Prix (2nd) and 70.375% in the Kur (3rd) to average 69.177%.
"This is amazing," said an overjoyed Ulf. "I'm very surprised." Her 15-year old Caruso finally seems to have matured. "He's been absolutely wild. He's fine in training but wild at competitions. Last spring he became to calm down, maybe because he's 15. Now he's going really well."
Eva Ulf is a full-time trainer at the Djursholm Riding school and Caruso is her first Grand Prix horse. She trains with Louise Nathhorst and Jan Schönemann.
Malin Hamilton and Fleetwood (by Florestan x Gormio xx) settled for silver with an average score of 69.031%. She placed sixth in the Grand Prix (66.787%) and were second in the freestyle (71.275%).
"I certainly did not expect this," said Hamilton, who is a trainer at the Vallentune equestrian school. Malin discovered Fleetwood as a foal in Germany.
Kyra Kyrklund's student Maria von Essen and the liver chestnut Hanoverian gelding Ferdi (by Federweisser x Charmeur) were good for bronze. They ranked fifth in the Grand Prix (66.787%) and fourth in the Kur (70.125%).
The Flyinge based Von Essen said that "it's extra fun to win at home."
For two riders the Swedish Nationals were a roller coaster ride. Charlotte Haid Bondergaard and the Dutch bred gelding Triviant (by Olivi x Saluut) won the Grand Prix class with 69.340 but struggled in the freestyle and posted a score of 63.250% to rank 8th. Sophie Lexner took a bumpy start on Ulla Hakanson's Westfalian gelding Charming Boy (by Casaretto x Ehrentusch) to finish 13th in the Grand Prix (65.000%) but she recovered well by winning the freestyle with 71.450% to rank fourth overall.
Photo © Göran K Josefsson
Results - 2012 Swedish Grand Prix Championships
Round 1 - Grand Prix
1. Charlotte Haid-Bondergaard  - Triviant - 69.340
2. Eva Ulf - Caruso - 67.979
3. Jeanna Högberg - Liza Minelli - 66.957
4. Helena Lindmark - Marron - 66.872
5. Maria von Essen -Ferdi - 66.787
6. Malin Hamilton - Fleetwood - 66.787
7. Ulla Håkanson - Richelle - 66.170
8. Caroline Bonde Sandgaard - Deela Mae - 65.851
9. Charlotte Haid-Bondergaard - Lydianus - 65.574
10. Mads Hendeliowitz - Weihenstephaner - 65.277
11. Helene Melsen - Akeem - 65.128
12. Åsa Nyström - Walkman - 65.021
13. Sofie Lexner - Charming Boy - 65.000
14. Anette Christensson - Normandie JB - 64.660
15. Jill SandströmLeppänen - Heaven - 64.489
16. Caroline De Champs - Donatella - 63.383
17. Mattias Jansson - Tsarevitj - 62.723
18. Ebba von Essen - Dry Sack - 61.574
19. Hanchen Ressle - Pazriel´s Ruby - 61.489
20. Liane Wachtmeister - Santana - 61.298
21. Ann-Sofie Berger - Daniello - 60.702
22. Charlotte Esping - Ciwi - 60.277
Jacqueline Ferring Strassmann - Meister - RET
Round 2 - Grand Prix Kur to Music
1. Sofie Lexner - Charming Boy - 71.450
2. Malin Hamilton - Fleetwood - 71.275
3 . Eva Ulf - Caruso - 70.375
4. Maria von Essen - Ferdi - 70.125
5. Jeanna Högberg - Liza Minelli - 69.375
6. Ulla Håkanson - Richelle - 68.050
7. Helena Lindmark - Marron - 67.525
8. Mads Hendeliowitz - Weihenstephaner - 66.650
9. Caroline Bonde Sandgaard - Deela Mae - 66.400
10. Caroline De Champs - Donatella - 65.950
11. Mattias Jansson - Tsarevitj - 65.925
12. Anette Christensson - Normandie JB - 65.900
13. Åsa Nyström - Walkman - 65.225
14. Charlotte Haid-Bondergaard - Triviant - 63.250
15. Jill SandströmLeppänen - Heaven - 60.850
2012 Swedish Grand Prix Championships
1. Eva Ulf - Caruso - 69.177
2. Malin Hamilton - Fleetwood - 69.031
3. Maria von Essen - Ferdi - 68.456
4. Sofie Lexner - Charming Boy - 68.225
5. Jeanna Hogberg - Liza Minelli - 68.166
6. Helena Lindmark - Marron - 67.198
7. Ulla Hakanson - Richelle - 67.110
8. Charlotte Haid Bondergaard - Triviant - 66.295
9. Caroline Bonde Sandgaard - Deela Mae - 66.126
10. Mads Hendeliowitz - Weihenstephaner - 65.964
11. Anette Christensson - Normandie JB - 65.280
12. Asa Nystrom - Walkman - 65.123
13. Caroline de Champs - Donatella - 64.666
14. Matias Jansson - Tsarevitj - 64.324
15. Jill Sandstrom Leppanen - Heaven - 62.669
Related Links
Andersson, Mattsson, Aspnas Win Gold at 2012 Swedish Youth Riders Championships
Tinne Vilhelmson Wins 2011 Swedish Grand Prix Championships
Tinne Vilhelmson Wins 2009 Swedish Grand Prix Title with Favourit
Tinne Vilhelmson Captures Second Grand Prix Title at 2004 Swedish Championships