2012 Bundeschampionate Qualifier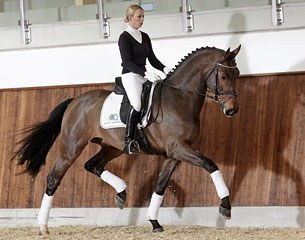 The 5-year old Fahrenheit and the 6-year old Professor Dumbledore were the winners of the small Bundeschampionate qualification classes held at the dressage gala in Heroldsberg, Germany, on Saturday 21 July 2012.
Seven 5-year olds contested each other in the L-level dressage test, which was won by Anja Plonzke on her father's Hanoverian stallion Fahrenheit (by Fidertanz x De Niro). The pair scored 8.0 and referred Marion Rail on the Bavarian mare Maja (by Denario x Abanos) to a second place.
For the 6-year old M-level test eight horses appeared on the show grounds. Andrea Vodermair and the Bavarian bred gelding Professor Dumbledore (by Pasolongo) topped the class with 8.0.  Plonzke and the Hanoverian stallion Rousseau Noir (by Rousseau x Del Piero) were second with a 7.8 score.
Results - 2012 BuCha Qualifier - Heroldsberg
5-year olds
Judges: Beutler-Bath, Riexinger
1. Fahrenheit - Plönzke, Anja - 8.0
2. Maja- Rail, Marion - 7.8
3. Luciano - Kronaus, Kerstin - 7.5
4. Royandic - Kufner, Ursula - 7.2
5. Don Cismo - Weihermüller, Stefanie -  7.1
6. Donna Felicia - Martin, Friederike - 6.9
7. Dont stop moving - Bernhard, Yvonne - 6.7
6-year olds
Judges: Lemmermann, Riexinger
1. Professor Dumbledore - Vodermair, Andrea  - 8.0
2. Rousseau Noir -  Plönzke, Anja - 7.8
3. Flaneur - Sessler, Alexandra - 7.7
4. Wilander R - Lang, Meike - 7.6
5. Flamenco Song - Herbert., Cornelia  - 7.4
6. Decento - Kufner, Ursula - 7.3
7. Ra-Inja della Luna - Chamsa, Clara - 7.1
8. Fleura - Kufner, Ursula -  6.9
Back to the 2012 Bundeschampionate Index