2012 CDIO Aachen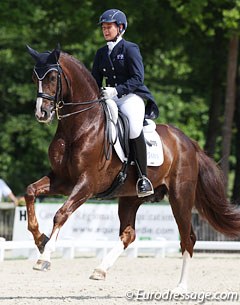 The Aachen show organization has posted the complete list of Nations' Cup teams which will compete at the 2012 CDIO Aachen in Germany, on 4 - 9 July 2012. The CDIO Grand Prix is scheduled for Thursday 5 July and will feature some of the world's best dressage riders, including the German team at full force as Aachen is their final Olympic selection trial.
The competing teams are:
Australia
Hayley Beresford - Belissimo
Kristy Oatley - Clive
Lyndal Oatley - Sandro Boy
Rozzie Ryan - GV Bullwinkle
Denmark
Sidsel Johansen - Schianto
Anna Kasprzak - Donnperignon
Anne van Olst - Clearwater
Nathalie zu Sayn Wittgenstein - Digby
Spain
Beatriz Ferrer Salat - Delgado
Jose Daniel Martin Dockx - Grandioso
Carmen Naesgaard - Ciowa
Ignacio Rambla - Fogonero
Germany
Anabel Balkenhol - Dablino
Helen Langehanenberg - Damon Hill
Kristina Sprehe - Desperados
Dorothee Schneider - Diva Royal
The Netherlands
Marlies van Baalen - Miciano
Patrick van der Meer - Uzzo
Imke Schellekens - Toots
Stephanie Peters - Unlimited
Sweden
Maria von Essen - Ferdi
Michelle Hagman - Rudi's Memory
Patrik Kittel - Toy Story
Sofie Lexner - Charming Boy
The Belgian team supposedly included Ronny Coenraerds, Philippe Jorissen, Vicky Smits-Vanderhasselt and Claudia Fassaert, but the latter two riders pulled out and got removed from the master list on Tuesday 26 June.
With the exception of Germany and Denmark, most countries are not sending their strongest team as they want to spare their horses for the London Games or strategically not compete against the strongest horses.
Photo © Astrid Appels
Related Link
Eurodressage "On the Scene" at the 2012 CDIO Aachen