Danish Warmblood Breeding News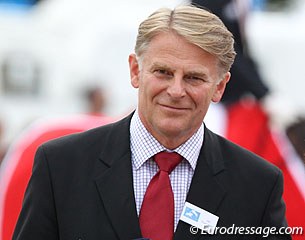 Danish Jan Pedersen has been re-elected president of the Danish Warmblood Society for a two-year period. His re-election took place at the annual General Assembly.
Pedersen has been chairman of the Danish Warmblood society for 18 years since 1994.
Ever since Jan Pedersen was a kid he has been drawn to horses and the envrionment surrounding it. He got his first horse, a mare, at the age of 11 which later on had a foal. This started his interest in breeding.
His biggest success in breeding was in 2001 when his mare Andorra won a gold medal at the annual Elite Mare Show in Denmark, a prestigious show where only the best mares in Denmark are invited to compete for the title "Mare of the Year", as well as compete for gold, silver, and bronze medals.  The mare Andorra was sold as a dressage horse to the U.S. Futhermore. their stallion Münster (by Münchausen x Andiamo) has been approved for breeding.
A part from being a breeder himself and being engaged in the many activities that come with being president of the biggest breeding association in Denmark, Jan Pedersen is also a full-time teacher at a nearby college where he teaches German.
Jan Pedersen is also President of WBFSH,  the World Breeding Federation for Sport Horses. At this moment the WBFSH is the only international Federation of Studbooks for Sport Horses in the world. The WBFSH is the major connection between the breeding organizations of sport horses and the international equestrian sport (FEI).
Photo © Astrid Appels
Related Links
Jan Pedersen Celebrates 50th Birthday and Re-election as WBFSH President
Minutes of the 2011 WBFSH General Assembly in Seville