Danish Dressage News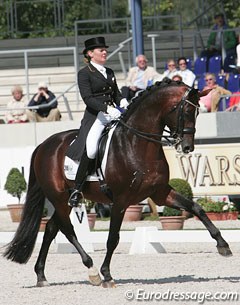 The Luxembourg based  Grand Prix rider Fie Skarsoe has re-established a co-operation with her former employer Gestut Wiesenhof in Krefeld, Germany. The Danish rider has received three Wiesenhof horses in training.
Skarsoe was head rider at Gestut Wiesenhof for several years but resigned in November 2006 to work as head trainer at Paul Kayser's farm in Luxembourg. In November 2010 Fie resigned there and started her own independent business also in Luxembourg.
After reconnecting with Wiesenhof's owner Beate Conle-Hüttner, Skarsoe received three horses in training: the 6-year old Salome (by Sandro King), the 5-year old Kadensky (by Munchhausen) and the 6-year old gelding For My Life (by Furst Heinrich), which Huttner acquired at the 2010 PSI Auction. Fie believes the latter horse is the most talented of all.
With these new additions in her barn, Fie is ready for the 2012 show season with eight competition horses in her barn. In 2011 she was successfull with the small tour horse One Night Stand (by Olivi) and also tried qualifying the 6-year old Danish warmblood gold medal mare Fabrix Miss Esandri for the World Young Horse Championships.
"We now have two horses on the way to Grand Prix and six small tour horses in our barn, so my students and I are looking forward to an exciting time," Skarsoe told Ridehesten.com.
Fie's team consists of Anne Kirkegaard and Rikke Svane, who will make her Grand Prix debut with the Trakehner stallion Finckenstein (by Latimer) in the spring. Fie also trains the Luxembourg based Danish rider Kristine Möller at Gestut Pallerhaf.
Source: Ridehesten.com
Photo © Astrid Appels
Related Links
Fie Skarsoe Goes Independent
Fie Skarsoe to Leave Gestut Wiesenhof