Veterinary News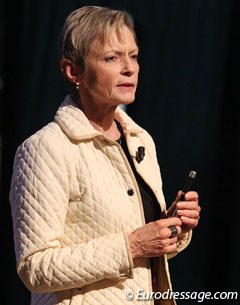 Dr. Hilary Clayton will speaking at a two-day seminar at Hilltop Farm on 24 - 25 March 2012 that will focus on how to evaluate equine structure and movement in relation to performance and soundness of sport horses.
Each day will include a classroom presentation and discussion as well as live horse evaluations.
Internationally known in the horse industry to be one of the leading authorities on equine conformation and biomechanics, Dr. Clayton is the author of six published books and the first incumbent of the Mary Anne McPhail Dressage Chair in Equine Sports Medicine at Michigan State University since 1997.
Dr. Clayton currently stands on the board of the American College of Veterinary Sports Medicine and Rehabilitation and is a member of the USEF Dressage Committee. She has been inducted into the International Veterinarians Hall of Fame, the Saskatchewan Sports Hall of Fame, and the Midwest Dressage Association Hall of Fame and as an avid dressage rider herself, has earned her USDF Bronze, Silver, and Gold medals.
Whether you're a breeder, trainer, or rider make sure not to miss this exciting opportunity to learn from an internationally recognized clinician. Lunch will be provided for everyone who pre-registers before March 1st, so please register early to reserve your spot as space is limited!
For additional information regarding the seminar contact Holly Fisher at holly@hilltopfarminc.com.
Photo © Astrid Appels
Related Links
Wolframm, Clayton, McLean: Where Science Becomes Knowledge
Sjef Janssen, Dr. Rene van Weeren and Anky van Grunsven on Coaching and Hyperflexion