Eurodressage F.O.C.U.S.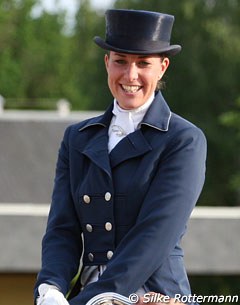 Charlotte Dujardin rode her first Grand prix test at the beginning of this year. . . and won. Carole Mortimer catches up with the rising star at the yard she shares with her mentor Carl Hester. On the whole riders, even superstars, are level-headed, normal people.
Perhaps one of the reasons is that there simply isn't time to be anything else. No matter how big the win, the horses have to be seen to first, there is the rush to pack up and get home, then its back to work to start all over again. 
British dressage's new international grand prix star Charlotte Dujardin is no exception. Right now her triumphant international grand prix debut in France, although only a few days since, is seemingly a long time ago.
Not only is she back to work at Carl Hester's beautiful yard, but on the last leg of the journey home from France she was literally brought back to earth with a bump – of the car-meets-wall variety which has helped to take the shine off the success.
So is the prospect of forking out the insurance excess for the damage, fortunately only to the car – and the wall. "I can't believe it," she wails, before adding the final straw to her beleaguered day. "And I've nothing to wear – it's all in the lorry."
Fortunately, there is a well-timed distraction that brings back the smile. The lorry with its valuable cargo of clothes and grand prix stars Valegro and Fernandez is coming up the drive, returning home, after their two-week stay at Vidauban in the south of France where Charlotte and Valegro and Carl with Fernandez, dominated the big tour in the international three-star competition.
Grand prix first-timers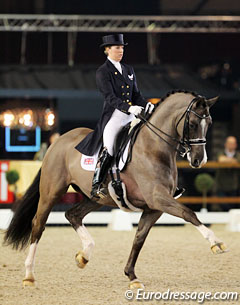 It was only at the end of January this year that 25-year-old Charlotte rode in her first ever competitive grand prix – at Addington – which with Carl's and Roly Luard's nine-year-old Valegro she won with a 74% plus score.
Followed up with four wins in Vidauban – two grand prix and two grand prix specials all with 70% plus scores – this perhaps puts Charlotte in the record books.
Has any other rider previously won on their national and international debut?
"Has there ever been a horse as successful as 'Blueberry' (Valegro's stable name)," Charlotte asks turning the question on its head. "All the way through he has proved to everyone he was a top horse in the making. In France they were all saying he is the next Totilas."
It is some accolade to be compared to the most successful dressage horse ever which surely must bring about a certain amount of pressure.
"There has always been pressure with Blueberry and before every test I do worry – everyone expects a lot – but once I'm on, I just get on with it. Even in the grand prix special – which was my first ride through the test, I hadn't even practised it at home – at one point I remember thinking 'this isn't bad and I'm even enjoying it'.
It was even better when I did the one-time changes on the centre line," she says with a delighted whoop. "But no way did I go to France thinking I would be coming home with four wins out of four."
The early years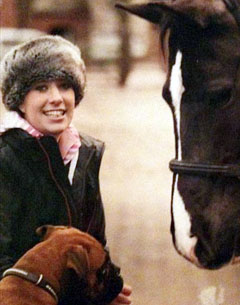 As well as the assurance and experience of five-years training with Carl Hester, Charlotte attributes her poise in the ring down to her grounding in showing. Up to the age of 16 Charlotte and her elder sister Emma-Jayne were successful in the ring with show ponies produced by her mother Jane, who still plays a supporting and hands-on role.
"Showing certainly taught me ring-craft and gave me a confidence in the arena – I learnt to rise to the occasion and I was always competitive. I always wanted to beat my sister – I hated not winning," admits Charlotte, a winner of four titles at both the Horse of the Year Show and Royal International Horse Show at Hickstead.
Charlotte got her first taste of dressage through rider and trainer Debbie Thomas, who allowed her to ride her grand prix horse Truday.
"I was only about 13 and remember doing flying changes and thought 'this is amazing'," says Charlotte, who one day simply decided that she didn't want to do showing anymore. Prompted by her then teacher Ian Cast after leaving school Charlotte went as a working pupil to trainer and now paradoxically, fellow grand prix rider Judy Harvey.
She was given the ride on Richard Heley's Wow Voyager with whom she contested young rider classes and first caught the eye of selectors being reserve for the 2006 young rider team.
During this time Charlotte also had the project of her own horse the Florestan-sired Fernandez – stable name Dez – bought as a three-year-old by Charlotte's mother Jane from one of the Brightwells sales. "He had attitude and I loved him," says Jane as she and Charlotte settle Dez back into his large stable.
That Fernandez had attitude proved to be the case but his headstrong ways – he had a tendency to bolt, once immediately before his slot in a young horse championship but still came second – did not daunt his young rider.
"That was Dez," says Charlotte with a shrug. The pair first made equestrian headlines in 2005 winning the Brightwell's Challenge. A year later claimed the national six-year-old title at Hickstead and, in 2008, the advanced-medium winter championship and were reserve national advanced-medium champions.
Coping with ups and downs
Then the moment every rider dreads happened when Fernandez was injured. It transpired that he had torn the meniscus, the shock absorber in the patella (stifle) and veterinary opinion was that he would probably never come right.
"I have never cried so much over a horse," says Jane, who was instrumental to his return, nursing him throughout at a yard near her home.
After six months rest and in-hand walking and no improvement, Jane was introduced to Wiltshire-based vet Sven Kold, who decided to operate. "We owe it all to Sven," says Jane who then started the in-hand grazing/walking routine all over again.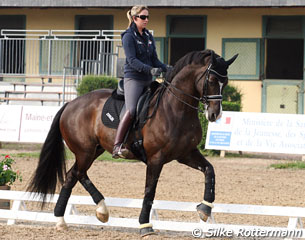 After two years off the now 11-year-old was brought back to work, soon picked up where he left off and then brought on to compete in grand prix – initially with Carl to gain experience. The pair is still a combination, while Charlotte is still competing Valegro despite the original premise that Carl would take over for grand prix.
"Carl has said I can keep the ride now," confirms Charlotte. During the time Dez was off she had the fortunate distraction of this eye-catching Negro sired black horse to produce.
They won all but one of the championships they contested. The one that got away – the 2009 national advanced-medium title – is a day that Charlotte has firmly put behind her.
"It was supposedly the last day that I was going to ride him and I wanted to win so badly that I let my nerves get the better of me and I hated every minute of the test. After I said that I would never put myself under such pressure again and therefore not enjoy it. You have to enjoy it and I love every bit of what I do."
And why wouldn't she? Charlotte probably has what many would consider the best job in
dressage in the best yard with the best horses and one of the best riders and trainers there is. "Of course I am lucky – I wouldn't be where I am without Carl – he was my idol," says Charlotte. It was after a one-off lesson that Carl asked Charlotte to help out for 10 days after which she basically never left.
So why did Carl ask her to stay? "I thought she had a real determination and I could see she so badly wanted to do it," says Carl. "I saw in her the same person I had been at the same age – someone looking for a break. She is incredibly hard working and will do what it takes. Even when I was busy and it was difficult to find time in the day for me to teach she would be there and ready at six o'clock in the morning – certainly more taxing for me than her."
Life with Carl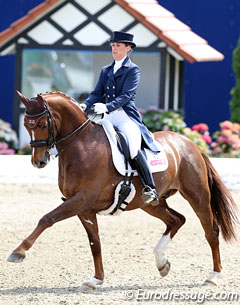 Charlotte, who only last year moved into a small and immaculately kept cottage on the premises, certainly doesn't undermine what Carl has done.
She says; "Carl has given me so many opportunities – within the first week he put me on a grand prix horse, how amazing was that! And I certainly wouldn't have got through France without him. He gives me confidence, never puts me down or puts pressure on me and I'm always learning – just by watching – he makes everything look easy, but will always take time to show me how. And he is never in a bad mood or so serious that it takes the enjoyment away – you can't help but enjoy every day. But we help each other – I think we are a real team now."
A place on the 2012 Olympic team – preferably one for her and one for Carl – is the aim, but right now there is the more pressing ambition of a team place for the fast approaching European Championships in Rotterdam later this year.
But even though every day is now working towards these aims, life isn't just about grand prix horses. During her time here she has helped out in other nearby yards, such as that of breeder Sandra Biddlecombe and currently has a few of her own young horses, based in another yard that she is bringing on.
"Obviously they are on the back burner a bit this year but I can't compete in novice and elementary classes anyway which I think is the worst thing about dressage – I haven't been able to do them since I won in young riders. It means that the horses are denied experience and the possibility of championships which is also hard on their owners."
She is also in demand as a teacher and spends three afternoons travelling to teach an already impressive client base and not only of dressage riders.
Eventers Sam Griffiths, Michael Jackson and even the great two times Olympic champion Mark Todd use her. "Teaching is something I enjoy – it's good to pass on what I have learnt and to help others," she says. But isn't teaching the likes of Mark Todd – "rider of the century", who is more than twice her age – rather daunting?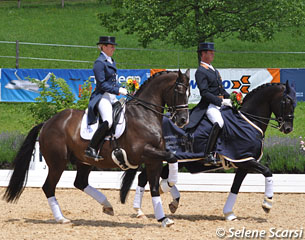 "I suppose it was a bit at first but you just have to get on with it, I don't really see the rider just what's going on and get on with trying to improve the horse. But Mark has also helped me. Before I went to France he talked to me about how to help control my nerves – can there be anyone better for advice? To me he is the eventing equivalent of Carl and like Carl so lovely with his horses."
Mark is not the only one to offer help. "In France even Wolfram Wittig was offering advice and to get help from older people like him and Mark is simply amazing."
So what happens after the Olympics? Is there a greater long-term plan? The question seems to throw her. "I don't have any thoughts about life after 2012, it's not something I want to think about. And I can't imagine life without Carl yet – I still need him to help me – there is still so much to learn."
- by Carole Mortimer / British Dressage
This article was first published in British Dressage Magazine (Issue 4/2011).
British Dressage is relaunching a new magazine with a new look and exciting content in our next issue due out next week!!
Related Links
British Team Picked for 2011 CDIO Aachen
Brits On Magical Form at the 2011 CDI Fritzens
Stunning Grand Prix Debut for Valegro and Dujardin at 2011 CDN Addington