Belgian Dressage News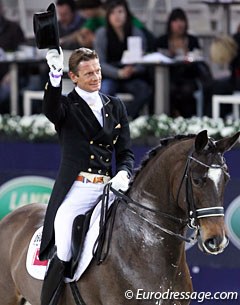 The FEI Dressage Committee, led by Dutchman Frank Kempermann, has decided that the CSI-W/CDI-W Jumping Mechelen can no longer organize a World Cup Qualifier in 2012. The Dressage Committee decided to raise the quality and attractivity of the Word Cup
by limiting the amount of qualifiers from 10 to 8. Mechelen has been kicked from the calendar. 
The Jumping Mechelen show organizers are upset that their competition has demoted. "For 12 years we've invested with own money in the Dressage World Cup. We've promoted it and built it up to a top event," said Peter Bollen, Mechelen event director. "We regret that the geographical spread nor Belgium's rich history in horse sport have not been taken into account. Belgium is part of the absolute world top in various disciplines, from breeding top horses to having World Champions and more."
"We can't understand why the Dressage Committee has put us organizers of Mechelen on the list of "reserve organisation"," Bollen continued. "This proves that the date (Christmas holiday) is no issue. We wonder what is!"
Bollen later confirmed to another media source that apparently the date of the event is the major stumbling block as both Frankfurt and London are also hosted in December.
Eight locations are on the list for the 2012-2013 World Cup show season: Odense (DEN), Lyon (FRA), Stuttgart (GER), Stockholm (SWE), London (GBR), Amsterdam (NED), Neumunster (GER), 's-Hertogenbosch (NED).
It is suprising that the Dressage Committee prefers to keep two qualifiers both in Holland and in Germany and does not take into consideration that they are dealing with the Western European League. A geographical spread of events should be a standard for the circuit instead of overpromoting the sport in the already dominant dressage nations. Mechelen is centrally located in Europe with very easy access for riders from The Netherlands, Germany, France and even England.
"We are very disappointed and consider this a slap in the face of the ten thousands of enthusiastic Belgian dressage lovers who are involved
in the sport," said Bollen.
Photo © Astrid Appels
Related Links
Gal and Sisther de Jeu Stand Out in Mediocre 2010 CDI-W Mechelen Grand Prix
Gal Reigns Supreme while Minderhoud Takes Maximum Points at 2010 CDI-W Mechelen