Swiss Dressage News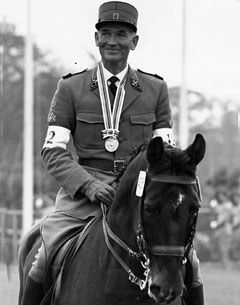 Legendary Olympic dressage champion Henri Chammartin passed away on Monday 30 May 2011 in Berne, Switzerland, at age 92. He was a five-time Olympian and won individual gold at the 1964 Tokyo Olympics aboard Woermann.
Henri Chammartin was born on 30 July 1918 in Chavannes, Switzerland, the second youngster child of ten. After completing the field artillery recruit school, he joined the military depot in Thun, Switzerland. As an adolescent he was trained by the renowned Oskar Frank and proved to be quite a talent in the saddle. He took up a professional rider's career at EMPFA (Swiss military horse depot) in Berne in 1949, where he worked until his retirement.
Chammartin became a legendary five-time Olympian having competed at the 1952 Olympics in Helsinki, the 1956 Olympics in Stockholm, the 1960 Olympics in Rome, the 1964 Olympics in Tokyo and the 1968 Olympics in Mexico City.He won gold at the Tokyo Games in 1964 with Woermann. With the Swiss team he twice won team silver and twice bronze. He was the double European Dressage Champion in 1963 and 1965. He retired from international competition after the 1968 Olympics.
Chammartin and his wife moved to a farm in the Freiburg province, where he dedicated his time to one of his hobbies: keeping sheep and small livestock. He continued to train students. At age 76 he sat on a horse for the last time during a "pas de deux" with one of his students.
As a young man Chammartin loved music and played the violin but chose for a career in horses instead. In an interview with Eurodressage Chammartin's daughter said that Henri rode like he "played the violin." He was an artist with the horses and tried to conserve their personality by not focusing first and foremost on technical precision, but on the expression of the movements. After his retirement he won a singing competition on Radio DRS with the men's choir "Les Croque Notes".
Marianne Fankhauser, an Olympic Swiss team colleague, confirmed that that was the main difference between him and his famous team mate Gustav Fischer, both rode in the same team from 1952 to 1968. Fischer's most important aim was precision.
Eurodressage's Silke Rottermann conducted probably one of the last published interviews with Chammartin in the summer of 2010. Check out the articles