American Dressage News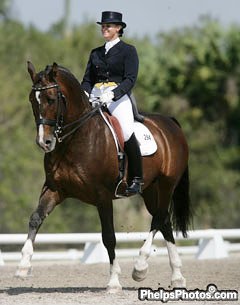 The Dressage Foundation announced that the Renee Isler Dressage Support Fund has recently provided grants to three individuals to further their dressage training and education. Liz Austin (VT), Jasmin Becker (CO, and Catherine Chamberlain (AZ)
were chosen by a Selection Committee to receive financial support from Renee's Fund.
Renee established the Renee Isler Dressage Support Fund at The Dressage Foundation in 2008. The Fund's original intent was to help qualified applicants to the "USDF FEI Junior/Young Rider Clinic Series," who are in need of financial assistance in order to attend. Renee's Fund continues to provide financial support for those riders, but funding is also available for a variety of uses for dressage professionals and young riders. Strong emphasis is placed on volunteerism, work ethic, and being respected in the community.
Dressage professional Liz Austin received $4,000 to train with Michael Barisone this spring. Her goal is to compete with Olivier at the 2011 World Cup and the 2012 Olympics. Liz agrees with Renee that giving back is so important to the sport. She said, "I respect and appreciate that I have had some amazing opportunities and I wish to share those opportunities with others. I always try to help talented, hard-working riders find horses to ride, and give them free lessons and advice. I really believe in paying it forward."
Jasmin Becker was awarded a $1,400 grant from Renee's Fund. She will use the funding to travel to California to train with Nick Wagman during the month of April. Jasmin said, "In a relatively short period of time, I have taken myself from an amateur rider, to a professional rider, to a FEI competitor. I have achieved this success because I believe in a formal training education." She looks forward to the intensive training time to prepare her horses for Grand Prix and is excited to share her newfound knowledge with her students in Colorado.
Young Rider Catherine Chamberlain plans to use her $400 grant to ride in an upcoming clinic with Shannon Peters in Carefree, Arizona. Catherine's goal this year is to qualify for and compete at the FEI North American Young Rider Championships with her horse, Verdicci. She said, "I believe any opportunity to receive such training is very important to my development in dressage, especially since I am training my own horse through the High Performance levels for the first time." Catherine plans to give back to the dressage community by continuing to volunteer on the Board of Directors of the Arizona Dressage Association, and would like to organize shows and clinics for young riders in her area.
Application guidelines are available at www.dressagefoundation.org. Upon receipt, the Selection Committee will review each application and make a funding determination. Applications are due at least 30 days in advance of the event, clinic, etc.
For more information about The Dressage Foundation, please contact Jenny Johnson at
(402) 434-8585 or visit www.dressagefoundation.org.
Photo © Phelpsphotos.com
Related Links
Kim Stordahl's 2011 CDI Del Mar "Dressage Affaire" is a Hit
Meagan Davis Awarded Grant from The Dressage Foundation
Shawna Harding Awarded $25,000 "Carol Lavell Advanced Dressage Prize'" Training Grant