2011 Danish Warmblood Stallion Licensing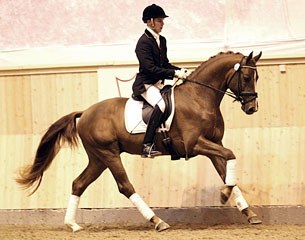 The Danish Warmblood stallion licensing takes place in Herning in March every year, and the Spring Auction has developed into an important part of the four-day-event. This year the quality of the colt collection in Herning
is expected to surpass all former stallion licensings which evidently also influences the quality of the auction collection.
The Spring Auction attracts a great number of spectators. In 2007 as well as in 2009 the top price for a licensed colt reached the magic amount of one million DKK (=134,000 euro).
In 2007 the premium stallion and former elite auction foal "Skovens Rafael" by Blue Hors Romanov/Blue Hors Don Schufro sold for 1.2 mio DKK and went on to become an extraordinarily successful young dressage horse, placing 5th at the world championships in Verden last year. In 2009 premium stallion "Klepgab's Don Nido" by Blue Hors Don Romantic/Solos Carex sold for 1 mio DKK and he is now trained at Blue Hors Dressage and will be shown in the Edward Gal clinic on Thursday night at the stallion licensing in Herning.
In the colt collection in Herning we find eight young stallions which were among the best colt foals in 2008 where they sold at the elite foal auction. Three of them are in the auction collection in Herning this year. They are "Electric Dancer" by Electric out of the wonderful thoroughbred mare Miss Evergreen xx by Prince Mab xx, "Klostergaardens Salvador" by Sandro Hit/Midt-West Ibi-Light and "Wilson Skovvang" by Wilkens/De Noir out of a strong dam line that has produced several Grand prix horses.
Head of the auction committee, Frode Jensen, describes the auction collection as the best ever : "Several of the best colts represent rare and interesting bloodlines, which could be particularly interesting for foreign stallion keepers", he comments.
Danish Warmblood has experienced an immense success internationally in recent years. Two gold medals and two silver medals at the world championships for young dressage horses in Verden within the last three years and triple silver at WEG 2010 speak for itself. At the same time Danish Warmblood has climbed the WBFSH rankings in dressage and has placed third in three consecutive years despite the small number of foals born every year.
It is expected that the international success will have a positive impact on the market, and that more international buyers will find their way to Herning 2011.
Pedigree, photos and video of the auction horses can be found at the Danish Warmblood website www.varmblod.dk. You will also find further details of time table, live streaming, telephone bidding, evaluation of x-rays, terms and conditions, showing and test riding, insurance and much more information.
The auction is also being marketed through the sales databases on Ridehesten.com and Everhorse.dk as well as Eurodressage.com.
Eurodressage Show Coverage of the 2011 Danish Warmblood Stallion Licensing