FEI Dressage News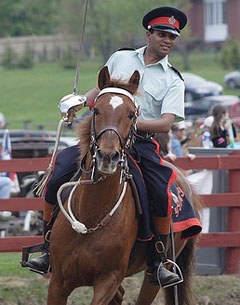 So far the FEI has released little news about the debates at the 2010 FEI General Assembly in Taipei as all sessions have been behind closed doors, unreachable to media. Akaash Maharaj, president of the Canadian Equestrian Federation
, has however reported on yesterday's turmoil and according to him the General Assembly has turned into a gladiator arena of blood and sand. 
The FEI has been under heavy attack for certain issues that have happened in 2009, including the wild proposition and vote on the Progressive List at the 2009 General Assembly and the "most vexatious forms of politicking that have stalked the FEI's presidential campaign" as the presidential candidates continue to lobby on location.
"I have been taken aback by the brutality of many aspects of the FEI elections. Having glimpsed the underside of the organisation, I fear that very few people have risen in my regard," Maharaj wrote.
The FEI is composed of ten regional groups and they were given their annual audience with the FEI Bureau. Maharaj spoke for Group IV and his message to the FEI Bureau was very clear: "it is the duty of every national equestrian federation and every Bureau member to put up or to shut up."
"The central pillar of the Bureau's democratic accountability to the FEI is the principle of collective responsibility," Maharaj stated. "While decisions are before them, Bureau members all have a responsibility to make themselves informed and active participants in debate, and to find the courage to offer dissent where they judge it to be warranted. Once a decision is taken, however, they all have no less of a responsibility to collectively stand by it, so long as they are Bureau members."
Maharaj explained his point further: "In the case of NSAIDs, after the FEI had taken its decision and after that decision had become a subject of international controversy, a number of Bureau members publicly dissociated themselves from the policy. This was – and is – wholly unacceptable. It was conduct that left the Bureau ethically impoverished and with damaged credibility. (...) Prior to the vote at the Copenhagen General Assembly, not a single Bureau member voiced any opposition to the NSAID Progressive List Motion on the floor. By biting their tongues at the moment of decision, they forfeited any right to publicly criticise the outcome."
According to Maharaj, Princess Haya told him the FEI bureau has been in shock from his message. "No one, and I mean no one, has ever spoken to us like that," she supposedly told Maharaj. "But we badly needed to hear it, and I can tell you that every one of them is going to remember it forever. You made them listen. I just hope they act."
More news on the FEI General Assembly to come
Photo © Jennifer Clarke
Related Links
FEI Holds Draw for Order in Meet the Candidates Session
Two Stand Against HRH Princess Haya in FEI Presidential Election