Young Guns in Dressage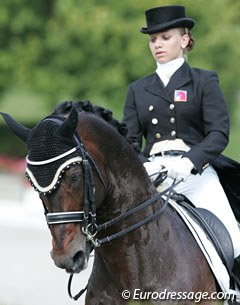 "He is just wonderful. It is dream come true to ride a horse like him," said the 19-year old Simona Aeberhard from Olten, Switzerland. As one of the country's best Young Riders
, she is ecstatic every time she talks about her equine partner. Only since April 2010 Simona, who is a law student at Berne university, rides the extremely well known and most beautiful breeding stallion GB Riccione.
The Hanoverian Regazzoni x Arogno/Trak offspring is a noble beauty, clearly influenced by his dam sire Arogno. Owned by the Swiss Hans Grunder from Grunder Stables, Riccione was previously competed at S-level by Swiss professional Melanie Hofmann. When she got pregnant und stopped riding the Grunder family decided to give the young Simona Aeberhard the opportunity to contunue the dressage career of their best stallion.
Simona tried him out in February 2010 and when everything went very well she took on "this unique chance to ride such an exceptional horse."?? One may suppose Simona comes from a horsey family and has already had an illustrious career in all previous age divisons as Riccione was entrusted to her. Surprisingly "I come from a family who had nothing to do with horses. As a child my mother always wanted to ride and have a horse, but couldn't afford it," she said. By coincidence Simona and her elder sister Carla went to a riding club and experienced the usual group lessons and later got a horse to groom.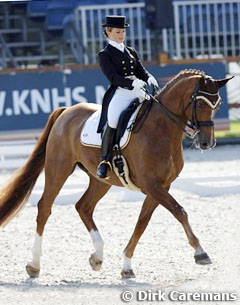 In 2005 the girls were still enthusiastic about their hobby and the parents finally caved in and bought them a horse, Revanche. This horse came from the Etter stable, was jumped and with the Aeberhard girls did A-level dressage competitons at an age their peers were winning medals in the pony division.
"Again by coincidence the Swiss dressage rider Susi Egli saw my sister and me riding and saw some talent in us. Soon we were hooked on dressage", Simona reported. In the meantime the Aeberhard family had pleasure in supporting their ambitious daughters and in 2007 they bought two dressage horses, Royal Dream and Redwood.
"I got Redwood who had already been trained to S-level then. He's a Rhinelander (by Rubinstein) and was born in 1996. He had been a super schoolmaster for me and not long after I managed to win a bronze medal at the Swiss Championships for Juniors in 2007. A year later I was allowed to represent Switzerland at the European Championchips in Portugal," said Simona, remembering how quick her career had progressed.
?After a mere 2 years at Junior level she entered the more difficult Young Riders section. Round that time Simona started to train with Swiss professional dressage rider Gilles Nvogan, who supported her in making the transition. ?Very unexpectedly the wonderful Redwood enabled her to become Swiss Champion in her first attempt at the Young Riders in 2009.??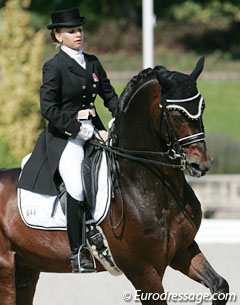 With two talented dressage horses in her collection Simona is busy training Redwood and Riccione who are stabled at different places an hours drive from each other. While Redwood remained in Gilles Nvogan's stable in Deitingen, Riccione lives in the small village of Hasle-Rüegsau near Berne, where he is also used for breeding. Currently Simona splits her time between both horses and as a consequence spends a lot of precious hours in her car. "It's very time consuming and I also have to take care of my studies. It is easier during my semester holidays. Then I also ride the Grunder family's younger horses while Melanie Hofmann is still away," she explained.
Although Simona has only started riding Riccione four months ago she feels very much part of his owner's family and stable team. The Grunder's resident trainer Melanie Hofmann, who has given birth to a daughter in August, has supported the young Swiss and Riccione to grow into a combination surprisingly quickly.
"For me the most fascinating aspect of dressage is to feel the horse and get a feeling for riding it. Though it's an individual sport in general I have to be a team with my horse. It must come right on both sides and then you have harmony with a horse, the feeling you are seeking for," Simona explained.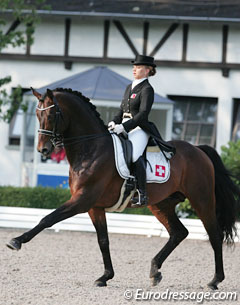 Simona and Riccione soon showed enough harmony to be selected for the Swiss Young Rider team for the 2010 European Championships in Kronberg at the end of July 2010. The elegant bay is an experienced S-level horse and "he is a real showman. He absolutely loves to present himself in front of crowds. This a big advantage. And he always fights for me." In Kronberg. Simona reported that she had the best feeling ever on him. He gave her a phenomenal feeling and was scoring highly until "I made a mess of the flying changes."
As lovely, uncomplicated and easy to handle the gorgeous Hanoverian is at shows, as proud and rambunctious he is at home.
Simona is always accompanied by her parents at competitions to back her up. Riccione lives in a nice paddock box and enjoys daily turnout in a specially fenced field, but he leaves no doubt he is the four-legged boss of the yard. Though he is fussy in-hand, Simona never loses control. "Ricci," as he is affectionately called, knows how far he can go and the petite blonde handles him in a quiet and routined way. Simona grooms him on her own at shows and at home and it seems the stallion enjoys his company.
But how does the stallion combine his job as breeding stallion and sports horse?
"Of course Riccione must also fulfil his stud duties and covers approximately 3 times a week. But before shows Mr. Grunder has regards for his horse and Ricci must not cover," Simona said. Moreover at 14 Riccione is in no need of hard training, it is more important to keep him fit and happy.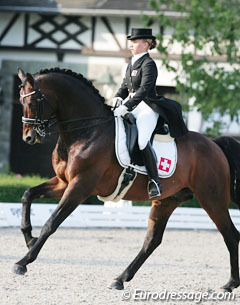 At the 2010 Swiss Championships in August Simona won the first class ahead of her team mates Sophie Aiko Müller and Anne Rita Bertschy, but an expensive mistake in the second round cost her the title, despite scoring over 70% in the freestyle. So the title defender finished in bronze medal position, but was still atisfied and optimistic: "Ricci has all the possibilities. It is up to me  to ride better and improve our results. We are traveling to La Mandria later this year and I hope we will be successful there. I aim representing Switzerland in Frankfurt in December".
Luckily this new Swiss dream-team will not part at the end of the year as originally planned. The Grunder family generously offered Simona the  ride on GB Riccione the 2011 season, which will be Simona's last year at Young Rider level. With Redwood and GB Riccione in hand the future looks bright.
"Redwood is reliable, but needs to be motivated. Ricci on the other hand is always eager to work, interested and gives me the incredible feeling of flying. I wouldn't swap him for any other horse."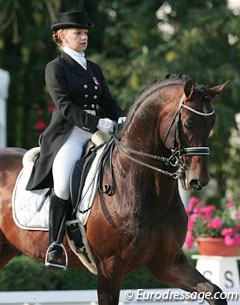 Flying high one day in the senior's division is a hope Simona shares with many others. She is aware how sweet and short-lived the time is in the youth divisions and how hard it is to remain on top of the game later. "I want to improve all the time and I dream of having an international Grand Prix horse one day. But the good thing about dressage is that time is not really running away. In this sport you can be competitive for a very long time. I want to graduate successfully from university and get a well paid job later so I can afford talented horses and good training."
??Maybe the 10-year old licensed Hanoverian stallion Lullaby (by Londonderry – Duntroon), whom the Aeberhard family purchased from DreamStreetStallions in the USA, will help to secure Simona's future when her Young Rider's years are over.
In the meantime the well bred chestnut is going to spend a year in Italy, the home country of Simona's mother. After Italian young rider Riccardo Sanavio tragically lost his top horse Usson van Essene at the 2010 European Championships due to a broken leg and colic after a surgery, Simona's parents generously offered him the ride for Ricardo's last year at Young Riders.
Good sportsmanship is as important as having talented horses in order to become an outstanding dressage rider one day. Simona seems to have it all.
Text by Silke Rottermann
Photos © Dirk Caremans - Astrid Appels/Eurodressage
Young Gun Profile - Simona Aeberhard
Date of Birth: 17.12.1990
Nationality: Switzerland
Place of Birth: Olten, Switzerland
Sign: Sagittarius
Profession: Law Student
Hobby: horse-riding, sport: jogging,tennis,squash, eating
Your Best personal quality: I`m a small girl with an immense smile, resilient,  ambitious, always happy
A Personal defect: impatience, chaotic
Favourite book: "Lea", by Pascal Mercier
Favourite film: Knight and Day
Favourite actress: Cameron Diaz
Favourite actor: Ashton Kutcher
Style of music: Pop, Rock, RnB
Favourite singer or band: no-one special
Favourite car: Audi A4
An unforgettable holiday: A spontaneous italian road trip, South America holiday with the family
Favourite dish: Crepes, Pasta, Brownies
Related Links
Corinth Did It Again at the 2010 Swiss Dressage Championships
Samantha Thurman-Baker in Style on her International Pathway
Noemie Goris and Ucelli T
Maria Caetano Is in It for the Long Term