FEI Dressage News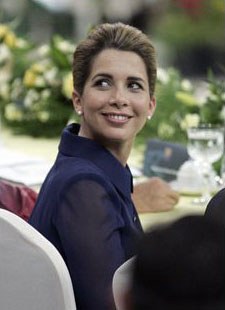 FEI President HRH Princess Haya has called for a more rational risk-based approach to international trade requirements for the transportation of competition horses.
Speaking to some of the world's top animal health government officials at the 78th OIE General Assembly in Paris on Sunday 23 May, the FEI President acknowledged the need for sanitary measures such as required testing and quarantine periods, but called for these measures to be applied in a reasoned manner and proportional to the risk of disease-spread when transporting international sport horses.
The FEI President highlighted the high health status of competition horses and called on the OIE to take decisions on importation requirements for equines based on a fair assessment of risk and consistent decision making. She stressed that lengthy delays at border posts are not acceptable and are a clear contradiction of the principles of fairness and good welfare.
Repeating the OIE objectives of strengthening economies, improving public health and increasing trade without unnecessary restrictions, the FEI President used the address to reach out directly to government representatives present at the OIE General Assembly, urging them to apply the OIE International Standards to equine trade.
The rapid growth of equine sports, particularly international equestrian competition and racing, is directly linked to associated job creation and government revenues, Princess Haya stated. Greater understanding of ways to maintain the health of animals and a healthier lifestyle for young people are other benefits of the expanding interest in the horse around the globe, she said.
"For the last four years, we have been working on a single solution for everyone, one that will protect the sport and take it to new levels", the FEI President said in her speech. "Ease of transport is key to the success and continuing development of equestrian sport. Yes, we must maintain the restrictions that prevent disease-spread, but we need to make it easier for our athletes to compete.
"If we can find solutions to the issues of transport and quarantine and allow our competition horses to move across borders without becoming entangled in bureaucratic red tape then we can remove the elitist image of equestrian sport. It truly can be horses for all and, if we can achieve that, it is a service to our whole community.
"In order to meet our overlapping objectives with your governments, we must all continue to work with the OIE to ensure that decisions on the trade and movement of all species, including equines, is based on transparent fact."
There is a growing recognition that the increasing volume of cross-border horse movement requires further efforts to allow that movement based on the actual science and an assessment of the risk factors involved. The 78th OIE General Assembly offered an important opportunity for the equine industry to highlight the need for constant communication with government officials to help facilitate the movement of horses and allow the expansion of equestrian sport on a global level.
Photo © Dirk Caremans
Related Links
Princess Haya Calls For "Time Out:" Progressive List Rediscussed at 2010 General Assembly 
Use of NSAIds to Be Put to Vote at 2010 General Assembly