2009 World Dressage Masters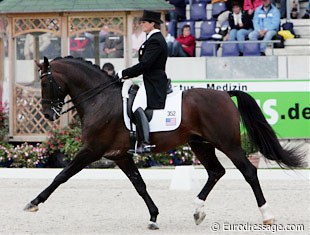 Dressage at Hickstead '09 promises top talent This year's Dressage at Hickstead international meeting (23 – 26 July) promises top names and talent in the only UK leg of the Exquis World Dressage Masters CDI5* series.
Anky Van Grunsen and Hans Peter Minderhoud from the Netherlands are among the leading riders already confirmed for the show, part of a global series that puts UK dressage on the map alongside the likes of Palm Beach, Florida; Munich; Salzburg and Cannes and carries €100,000 prize-money.
New this year is the Kampmann Future International Trophy classes, a test series which offers young grand prix horses, aged eight – 10, a platform to enter the global international scene. The gala evening of Saturday 25 July will feature a taster from the 'Magic of the Horse' produced by Tanya Larrigan and the exciting Hickstead Showjumping and Eventing Dressage Challenge." Spectators can also look forward to a covered grandstand.
TIMETABLE
Dressage at Hickstead CDI5*/CDI3*
Exquis World Dressage Masters/Kampmann Future International Trophy
All England Jumping Course, Hickstead, West Sussex
THURSDAY 23 JULY
International Arena:
CDI3* Prix St. Georges
CDI3* Grand Prix
FRIDAY 24 JULY
International Arena:
CDI3* Intermediaire I
CDI3* Grand Prix Special
Warm Up Arena: Vet Check CDI5*
SATURDAY 25 JULY
International Arena:
CDI3* Intermediaire I Kür
Kampmann Future InternationalTrophy Intermediaire II
CDI5* Exquis World Dressage Masters Grand Prix Finals
5 Year Old International British Young Horse Championships
Dressage at Hickstead GALA EVENING Eventers' Challenge, a Taster from The Magic of the Horse
SUNDAY 26 JULY
International Arena: Kampmann Future International Trophy Grand Prix
CDI5* Exquis World Dressage Masters Grand Prix Special
Finals 6 Year Old International British Young Horse Championships
CDI5* Exquis World Dressage Masters Grand Prix Kür
CDI5* NAME NATION
Anky Van Grunsen NED
Hans Peter Minderhoud NED
Anne Van Olst NED
Edward Gal NED
Leslie Morse USA
CDI3*
Kenneth Dyrby USA
Susie Dunkley Zandvoort BER