2009 World Dressage Masters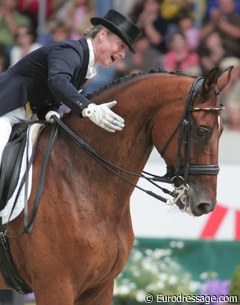 The second leg of the 2009 World Dressage Masters, staged at the former Olympic Stadium of Munich, produced some great sport with winners representing the leading dressage countries of the world, Germany and The Netherlands.
Thirty-eight year old Dutchman Sander Marijnissen took the win in the Grand Prix Special aboard his huge Dutch bred Moedwil (Goodwill x Beaujolais) with an 71,500% score. German Olympian Isabell Werth (39) did a great job showing her strong and talented Hanoverian Satchmo in the Freestyle to music.
Satchmo's owner, Mrs Madeleine Winter-Schulze, hurried from the Show Jumping Derby in Hamburg to fly in on time in Munich to witness her favourite pair Isabell and Satchmo.
"To me, Isabell and Satchmo combine the ultimate knowledge of riding. I love their skills, their art and I love them as a person and as a horse," Madeleine Winter-Schulze said. Isabell took the win scoring 84,750%. Germany's most victorious rider praised the show in all its details.
"From the weather and the refurbished footing to the complete show schedule including several highlights and demonstrations, the huge prize money, the enthusiasm of the audience, I cannot think of any improvement. The only thing that still could improve is my little mistake in the two tempi changesn" she said happily.
She admitted that the three mistakes for which she was penalized in the World Cup Finals Freestyle were rare exceptions in the career of the 15-year-old Hanoverian gelding. The mistakes in Las Vegas, she said, resulted from rider errors. "I was not focused." In Munich in front of the ecstatic Bavarian crowd she was!
Talk of the day
Sander Marijnissen could not stop talking about his experiences. Next to his Grand Prix Special win he also celebrated the two small tour victories with his youngster Sander. "I can hardly believe what has happened this weekend," Sander said. "My Grand Prix result was a personal record. And to be able to learn and be within the group of the best riders of the world is amazing. I even have the feeling that despite my age of 38 I'm still improving! I was able to concentrate from one horse to the other within the shortest time and even peak on both! Moedwil impresses the audience with his relaxation and lightness. German coach Holger Schmezer stood next to my wife Karina. He was so happy with my result that he immediately embraced her to share his compliments."
Sander Marijnissen was the talk of the day, explaining that his father used to work as a postman and now helps him build up his own riding stable while working at an international dressage career. His wins were rewarded with 10,000 € for Grand Prix Special
Dressage Victories
Katrina Wüst, chair of the judges, had the nicest summary of the dressage activities in Munich. "We had great sport. We celebrated a German and Dutch win in unity after having enjoyed great performances. Each new rider improved the former well riding pair, which made the challenge even more inspiring. We have witnessed both experienced champions like Satchmo and Max next to upcoming, promising athletes like Moedwil, Augustin and Herzruf's Erbe", Katrina Wüst said. "But by far I was the most impressed by the way the two leading countries in dressage Germany and The Netherlands were harmoniously working together in Germany with the Dutch sponsor Exquis. And all this to bring dressage one more step up. Therefore to me the sport of dressage was the most precious winner of the day in Munich!"
Back to the 2009 WDM index