2008 Danish Warmblood Stallion Licensing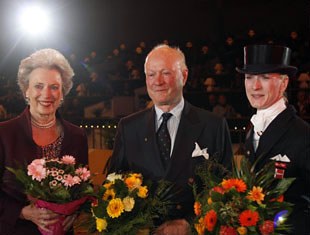 The stallion licensing at Herning is the largest of its kind in Europe. Once again, just as in 2007, Dansk Varmblod had more than 53,000 visitors between March 13th and 16th., 2008.
A highlight of the show was the Saturday night gala during which the Danish royal family, Her Royal Highness Princess Benedikte, Princess Nathalie and Prince Richard were awarded Dansk Varmblod's Gold Medal of Honour.  In his presentation speech to Her Royal Highness in front of 6000 people, Jan Petersen, Chairman of Dansk Varmblod, said:
"Princess Benedikte is the most successful breeder in our association. Two of the six horses Danish Warmblood horses that formed the basis for Denmark's fourth place in the world ranking system, Rigoletto and Digby, were bred at the castle of Berleburg, the private home of the royal family. This is an outstanding result. The whole family is behind this success and it is therefore a special honour for me also to award a Gold Medal to Prince Richard as he has been great support to both Princess Benedikte and Princess Nathalie's joint horse interests. Princess Natalie is also getting a gold medal for the achievement of training three home-bred horses to the Grand Prix level.'
Princess Nathalie replied:
"First of all I would like to thank Dansk Varmblod for coming to Berleburg to brand our foals and evaluate our mares and stallions. And I also want to thank my parents because they have believed in me the whole way through and have kept my horses instead of selling them.
The Auction of riding horses and ungraded stallions
2.600 people watched the auction which had 18 3-year-old stallions who had been unsuccessful in the grading forward plus 6 riding horses. Top prized lot at Danish Kroner 505,000.00 was the Bronze Medal mare Højbo's Payback who already has placings at medium level in both dressage and show jumping. Second most expensive was the 3-year-old unlicensed stallion, Sanchez who made Danish Kroner 300,000.00.
Back to the 2008 Danish Warmblood Licensing Index