2007 CDIO Aachen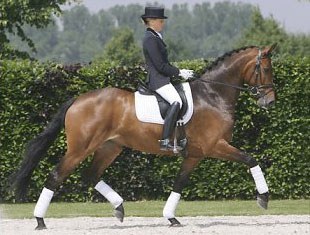 The first auction at the CHIO Aachen 2007 ended with a top price: The bidders from Great Britain offered 240,000 Euros for the five-year-old Conteur daughter, Chiara, who has already qualified for the German National Championships for Young Dressage Horses.
"The auction was a huge success for Aachen. We had an enthusiastic audience including many top riders. Some bidders were also present, that we had never seen before," summarised the dressage trainer from Aachen, Ton de Ridder. The 32 auctioned horses brought an overall turnover of 1.886 million Euros, with buyers from ten countries. The CHIO Auction was organised by the Aachen-Laurensberger Rennverein and the Rhineland Stud Book.
The six-year-old chestnut mare, Brendula, a beautiful mover, became the object of an exciting bidding duel: The Austrian rider, Victoria Max-Theurer, who had just a few hours previously won the Prix St. Georges at the Soers, proved to have the greatest staying power in the end with her bid of 141,000 Euros. Brendula descends from the stallion Breitling, with whom Wolfram Wittig - the trainer of the dressage queen Isabell Werth - claimed many Grand Prix victories. Max-Theurer also bought the most expensive foal, a son of the German National Champion of Young Dressage Horses, Sir Donnerhall, for 19,000 Euros.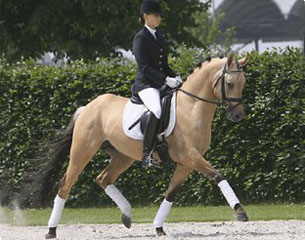 Whereas a bidder from Rhineland had to say no to her daughter as the price for the four-year-old riding pony mare, Day of Diva, rose to 65,000 euro (selling to the U.S.A), she was subsequently able to snatch up the riding pony stallion of the same age, Der kleine Prints: The Don Joshi AT son changed hands to an owner in Düsseldorf for 50,000 Euros.
Sold for 125,000 Euros, the most expensive jumping horse was the Lordanos daughter, Loyalty, who is already internationally successful at S-level. The Norwegian World Championship rider, Geir Gulliksen and the French Nations' Cup rider, Emile Hendrix, also secured themselves new upcoming youngsters.
Quantity - Price Range in Euro - Average Prize in Euro
Dressage horses: 13 / 45.000 - 240.000 / 75.577
Jumping horses: 11 / 24.000 - 125.000 / 63.909
Riding Ponies: 3 / 28.000 - 65.000 / 47.667
Foals: 5 / 7.500 - 19.000 / 11.500 
Back to the 2007 CDIO Aachen index